Whole Foods Markets embraces mobile payments
|
Whole Foods Markets teams with Square to enter into mobile commerce
Whole Foods Markets has partnered with Square in order to be more accommodating of mobile commerce. The grocery retailer has taken note of a rise in the use of mobile devices among its customers and has become well aware of the mobile commerce trend. Consumers throughout the U.S. are beginning to demand new mobile commerce services and Whole Foods Markets has turned to Square in order to accommodate consumer needs. Square is currently considered one of the most successful mobile payments organizations in North America.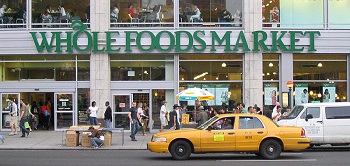 Square helps Starbucks find success in the mobile sector
Square has been part of some of the most successful mobile commerce initiatives in the world. Starbucks partnered with Square in order to engage mobile consumers more aggressively. In 2013, it was reported that Starbucks managed to generate more than $1 billion in revenue through mobile payments alone. These payments were handled by Square's mobile commerce platform. Whole Foods Markets believes that it can find similar success through its own mobile commerce initiatives.
Test phase will determine consumer interest in mobile payments and the viability of expanding mobile commerce services to other stores
Whole Foods Markets will be testing its mobile payments venture in a limited number of stores initially. The pilot testing phase is meant to help the company better understand mobile commerce and help determine whether mobile commerce is something its customers would participate in. Depending on the success of the testing phase, Whole Foods Markets will expand its mobile commerce initiative to more stores throughout the U.S.
Many consumers remain concerned about mobile commerce security
Square has been working to make mobile commerce mainstream for some time. The company's partnership with Starbucks has effectively solidified mobile commerce with many consumers throughout the U.S., but many people are still somewhat leery of mobile payments. The concern that many people have when it comes to mobile commerce has to do with the security of their financial information. Mobile commerce has become a popular target for malicious groups that seek to exploit a consumer's financial information through hacking and other such practices.