Apple changes mobile ad formats for its News
The posts seen by users of iPhones and iPads will now be peppered with a new kind of advertising.
From now on, there will be a new mobile ad format that will be making their way into the Apple News feeds, which will appear in the form of sponsored posts that will appear along with other articles.
Apple announced the new mobile marketing format as a part of the March mobile advertising platform updates.
According to the document in which the announcement of the changes was made, the new format for the mobile ad display will show them "directly in the content feeds, in line with the News articles". This will be occurring in both the iPad and iPhone version of Apple News. These advertisements are not meant to stand out very much from the rest of the articles in the feeds, as the same font will be used for the ads and articles.
That said, each mobile ad will have a small "sponsored" tag that will allow users to identify them.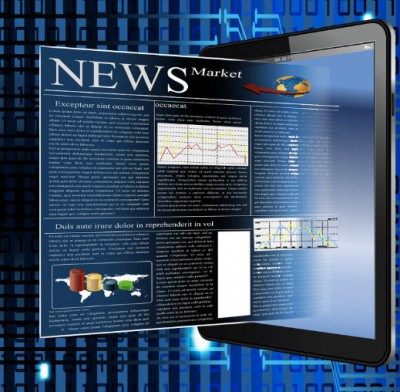 Still, it is evident that these mobile ads are being designed to blend in and look like the rest of the articles being displayed in the feed, according to the developer document in which the new format was announced.
_____________________________________________________
Ad -

#1 Ways to Double Your Productivity For Life
By Jason Fladlien, referred to by many as "One of the top 5 living marketers on the planet". How did he get there? By working smart. Get twice as much out of your day with Jason's easy system -
Learn More Here
_____________________________________________________
The idea behind this new mobile advertising format is to provide marketers with a fresh way to promote sponsored posts and sell those spots. While this can provide an advantage, it's not without its drawbacks for advertisers, as well. It remains the same downside as with advertising through any other format on the iAd platform, which is that Apple takes the same 30 percent cut from all revenue generated through those ads.
Yet with about 40 million users recorded for the Apple news mobile app in January, the opportunity for advertisers is not a small one. Despite the fact that the mobile ad tag that indicates that it was sponsored is quite small, it still complies with the regulations from the FTC that require that all sponsored content be clearly marked. It is expected that the new format will be a part of the update going into effect this week.
About The Author
Lucy
Lucy is a stay at home mom that loves to write. Mother of three, she keeps herself busy, between writing and playing taxi cab! She is originally from Los Angeles and keeps herself in the trend loop with many social networking groups she has formed. She attended UCLA and has found her home as a writer for now and in the future.