Zynga announces support of Bitcoin
|
Bitcoin could be used to pay for mobile games
Bitcoin is gaining ground as more companies take this form of digital currency more seriously. Mobile games developer Zynga is one of the companies that has recently announced its interest in Bitcoin. The company has announced that it will be conducting a payment test with Bitcoin as the major focus. The developer has teamed with BitPay, a Bitcoin service provider, and the two companies will be working to examine the possible uses of Bitcoin in mobile games.
Bitcoin popularity continues to rise
The current market value of Bitcoin stands at approximately $1,000. The value of the digital currency spiked after Zynga made its announcement. Bitcoin is notoriously volatile, however, as it is not regulated by any government or financial organization. As such, the value of Bitcoin can drop dramatically at any given time, or skyrocket depending on certain factors. A company like Zynga announcing its support for the digital currency, for example, can help the currency become more valuable.
In-game payments remain a focus of Zynga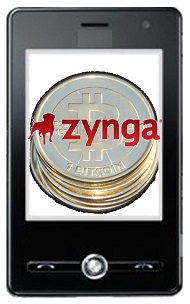 The payment test will focus on Zynga's mobile games, many of which are already quite popular with consumers. These games tend to include microtransactions, small payments that can be made to unlock additional content or new features in a mobile game. In-game purchases are quite common in mobile gaming, but relatively unpopular among consumers. Indeed, Zynga's aggressive use of in-game purchases caused many people to abandon the company's games, seeking out less expensive and more inclusive mobile games.
Volatility of Bitcoin may make it unpopular in gaming
Zynga is requesting that gamers provide feedback for its payment test. This feedback will be used to formulate a more cohesive payment strategy for the developer's current and future games. Zynga has issued its support for Bitcoin because of the currency's dramatic rise in popularity. The volatility of the currency may not win it any fans among consumers, however.