The pop star is going to make a guest appearance in the free-to-play app from Square Enix.
Ariana Grande has announced that she will have a guest spot in the Final Fantasy mobile game. The game will be free-to-play. The singer used Instagram to reveal her presence in the Square Enix game.
It isn't yet evident precisely when the performer will actually appear within the mobile game.
Grande didn't mention when her appearance in the Final Fantasy mobile game would be. Moreover, she also didn't provide any details with regards to when or how players of the game would be able to recruit her character. Square Enix was slightly more forthcoming with information about how Ariana Grande would take part in Final Fantasy: Brave Exvius.
Ariana Grande's appearance in the Final Fantasy mobile game is based on her latex rabbit ear look.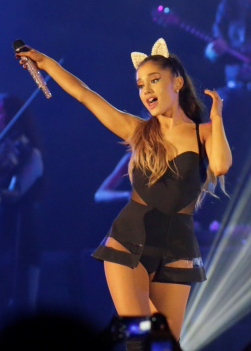 This was the look that was featured in her most recent Dangerous Woman album. It was also seen in the video for the title track of that album. Grande confirmed this on Instagram when she provided her followers with "a little peek" at what her character's sprite would look like.
Fans of the game series are always eagerly awaiting the newest additions to the application. Final Fantasy: Brave Exvius is a mobile game app that is free to download and play. It is a role playing game (RPG) in the turn-based format. The app will include a new list of characters as well as more familiar components from the Final Fantasy universe. Among them include summons and limit breaks.
The mobile game is available for both iOS and Android based devices. The Final Fantasy mobile game was developed by Gumi. It was first released in 2015 in Japan. It arrived in North America last year in June. Since that time, it has experienced over 8 million downloads, according to Gumi's own data which was released last November.
Whenever Ariana Grande's character appears in the mobile game app, it is certain to create quite a stir. It has, after all, been making headlines even without knowing any more than the most basic details.