Mobile ticketing to launch at Delhi-Palwal Rail Station
|
Commuters who are using the two train lines in India will be able to use cell phones to buy tickets.
A new mobile ticketing system will soon be launched to make it possible for commuters in Haryana, India, who travel between Palwal and New Delhi to be able to purchase their unreserved tickets by way of cell phones.
All that is required is a smartphone and the appropriate mobile app and the user can buy tickets on the device.
This mobile ticketing program will be implemented as of August and is a component of a broader strategy to convert unreserved tickets into a paperless system. It is also meant to help to reduce the need to stand in line and purchase those tickets. This system will be available to users of Android or Windows based smartphones. All they need to do is download the free Unreserved Ticketing System (UTS) app.
With the app, the mobile ticketing features become available to the device user who can display their ticket to officials.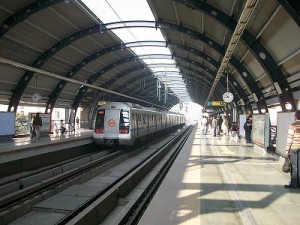 The railway ticket can be purchased through the use of a credit or debit card that is entered into the application. With the UTS app, commuters who are asked to show their tickets by railway officials can simply display the information on their mobile device screen.
This app makes it possible to buy a paperless ticket for a destination anywhere along the Delhi-Palwal section of railway, which spans 32 miles. Along this stretch, there are 15 different stations, including Nizamuddin, Tughalakabad, Faridabad and Ballabgarh. All of those stations will be covered by the paperless mobile tickets service.
The system was created by the Centre for Railway Information Systems (CRIS) "utsonmobile". The mobile app can be downloaded from either the Google Play store or the Windows Store, as appropriate. Once it has been installed, it walks the user through all of the required steps for making the ticket purchase, on-screen.
That said, despite the fact that the hope is that the majority of commuters will use the mobile ticketing system, the traditional ticket windows will still be available to travelers who wish to buy paper tickets.