Mobile devices lawsuit from BlackBerry seeks next step against Typo
|
The handset manufacturer is now after a court order to stop Seacrest's case.
Radio and television celebrity, Ryan Seacrest, is the founder of Typo, is now in the spotlight for a reason that is very different than being the host of the massively popular "American Idol", as the company is now being sued by struggling Canadian mobile devices maker, BlackBerry Ltd.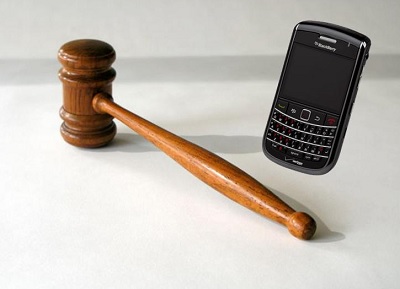 The company is now trying to stop Typo from being able to ship its latest iPhone Case.
According to BlackBerry, Typo Products LLC has created mobile devices for iPhones that copies the smartphone manufacturer's designs. For that reason, BlackBerry has not only sued Typo, but it has also now asked a U.S. judge to stop Typo from being able to ship this $99 accessory that is meant to be used with the iPhone 5 and the iPhone 5S. It is a gadget that is designed with an integrated keyboard and it allegedly infringes on the design and invention s of BlackBerry.
BlackBerry made its filing to stop the mobile devices from being sold in a federal court in San Francisco.
The lawsuit was initially filed back on January 3 with the allegation that Typo was infringing on BlackBerry's patents. BlackBerry feels that it is very likely to succeed with this suit, but that if Typo is permitted to continue to sell its gadget, then BlackBerry could suffer "irreparable injury". It should also be pointed out that Apple is not involved in this case in any way, despite the fact that the accessory was built to be compatible with a couple of its products.
Over the last recent years, BlackBerry has been dramatically struggling as it has gradually and increasingly rapidly lost business to Google Android and Apple. During the third quarter of 2013, its share of the worldwide smartphone market plummeted to only 1.7 percent, when it had previously dominated that market space. A year before, in the third quarter of 2012, the market share had been 4.1 percent. These statistics are according to IDC.
The hearing for BlackBerry's request to order Typo not to manufacture, offer, sell, market, distribute, or promote the mobile devices has been scheduled for March 5.