Mobile devices from BlackBerry will comprise 98 percent of Defensewide System
|
This mobile development from the Pentagon will secure a number of smartphone brands for war fighters.
Defense Department officials have revealed that the mobile development of a Pentagon system is being geared toward ensuring that a range of different mobile devices from different brands for war fighters will be mainly supported by BlackBerry as the tool begins its launch at the end of January.
The vast majority of these gadgets are going to be based on Blackberry, while the remainder will have other operating systems.
Officials estimated that 80,000 BlackBerry mobile devices, as well as 1,800 smartphones and tablets based on Android and iOS owned by the Defense Department would start to be connected to this new management system on January 31, 2014.
This is the latest step in the transition that began in 2012 to move toward mobile devices.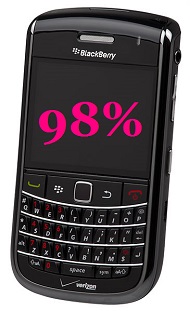 Two years ago, the Defense Department started to step away from wired workstation computers and toward more a more mobile access to information. This most recent effort is a considerable one in this process and it is wholly dependent on the proper functioning of this Defensewide system.
The project, which has an estimated price tag of $16 million , is meant to ensure that a possible 300,000 users within the department will not compromise military data on their smartphones and tablets. It has also been created to make certain that defense networks will not be corrupted while these individuals continue their information access while they are on the go.
Aside from BlackBerry mobile devices, it is expected that other popular gadgets to be included in this transition will be the iPad 3 and 4, as well as iPhones 4S and 5, in addition to the Samsung 3S, Samsung 10.1 tablets, and the RAZR line of products from Motorola.
In a statement, officials from the Pentagon said that "The new year will bring new mobile capabilities to as many as 100,000 DoD users." They added that, starting on January 31, the department would be implementing version 1.0 of the unclassified mobile capability, and that it would then continue to expand the capacity of this management system to the point that it would be capable of supporting up to 100,000 users by the close of the fiscal year.