Mobile apps are most appealing to Atlanta airport travelers
|
A recent mobile device study has revealed that these passengers are the most willing to use m-commerce services.
According to the results of a survey that was recently conducted in worldwide airports, the passengers traveling through the Hartsfield-Jackson International Airport in Atlanta are those who are most willing to use mobile apps for travel purposes.
Among the tasks they were willing to complete via smartphone or tablet is ticket purchasing.
The survey was released by aviation technology consulting firm, SITA. It revealed that more than half (51 percent) of passengers in Atlanta had stated that they would be willing to use mobile apps on their devices in order to purchase tickets. This could open up new doors in m-commerce.
Passengers also stated that they would be willing to use the mobile apps for a number of other purposes.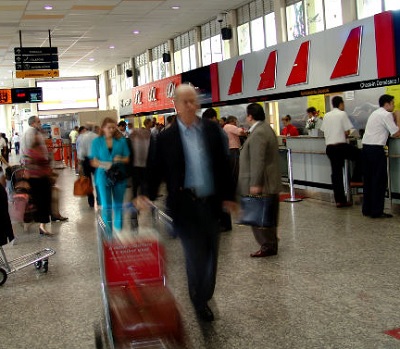 In Atlanta, about 65 percent said that they would use their mobile devices for making flight changes. When compared to the global average of 47 percent, this was clearly a great deal higher. Furthermore, among the respondents in Atlanta, 60 percent stated that they would have been willing to use their smartphones and tablets to pay for seat upgrades and other forms of ancillary services. On the other hand, the global average willing to do the same was only 39 percent.
This represents a massive increase over the results that were brought in during the same survey last year. At that time, only 35 percent of Atlanta passengers said that they would be willing to use their gadgets for these purposes. This information is likely to be interesting to mobile app development companies as well as in the creation of future forms of mobile marketing strategy.
This latest annual survey was the eighth SITA/AIR Transport World Passenger IT Trends Survey. It was conducted with a participation of 2,489 passengers from 70 countries, who made their way through six of the busiest airport hubs around the world. They answered questions and gave their opinions regarding several digital and mobile apps usage topics. Aside from Atlanta, the airports also included Beijing Capital International, Abu Dhabi International, Frankfurt International, Chhatrapati Shivaji International (Mumbai), and GRU Sao Paulo International.