Mcommerce has expanded 63 percent since 2008
|
In the United Kingdom, the average 2013 spent over mobile commerce was £199.
Different mcommerce trends have become quite commonplace in the United Kingdom with four out of every ten smartphone owners having made a direct purchase through their smartphones and one in six have said that they have taken part in showrooming.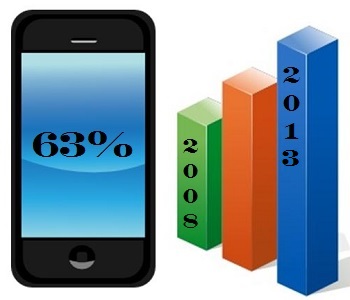 Among shoppers in the United Kingdom, 55 percent have used their mobile devices in store.
While in store, mcommerce activity often consisted of price comparisons, online. This was the case among 54 percent of the people who used their mobile devices while in brick and mortar shops. Another 41 percent had taken pictures so that they would be able to view them in the future. Forty six percent would research the items that they were seeing live in the store. One in every six were "showrooming", which involves checking out an item in a store in person, but then using the smartphone or tablet to find a better price for it online and purchase it there, instead.
This mcommerce data was based on a survey of 1,000 owners of smartphones in the United Kingdom.
The research was published in a report called "'Agile Consumer 2013". It was conducted by Cheil Worldwide. It also determined that half of all users of smartphones and tablets had shopping in mind when they purchased their mobile devices.
According to Simon Hathaway, the president of shopper marketing and retail operations at Cheil Worldwide, "The smartphone has become a key element of how we shop, and all evidence points to it having been a bumper post-Christmas sales period for m-commerce." He added that there has been a near doubling in the amount of time that is spent purchasing products and services over smartphones over the last five years.
Hathaway also stated that even when the phone is not being used for direct mcommerce purchases, it is still a part of the buying process as consumers use it to compare, research, and seek the opinions of others. This, he said, is changing the retail experience entirely "as we become smartphone-focused shoppers – or what we're calling 'Agile Consumers'."