US and UK markets see mobile payments transactions rising
|
While people are using smartphone based wallets more often, it doesn't appear to be reducing cash use.
According to the most recent digital money index issued by Citigroup in partnership with the Imperial College of London, mobile payments are rapidly becoming more popular in the United States and the United Kingdom, but the least developed countries worldwide aren't able to use this technology to reduce the use of cash and checks every year.
The hope has been to replace cash and checks with mobile transactions because of the cost reduction.
Transactions in the form of cash and checks cost billions of dollars to maintain every year, which explains why developing nations are placing a considerable focus on mobile payments. The hope is that they will replace a large portion of the use of cash and checks; and the costs associated with those transactions. However, while mobile wallets are becoming increasingly popular in the U.S. and the U.K., they're not having the desired impact on cash and check use in the developing world.
The report showed that there is a growing gap between the countries that are most and least ready for mobile payments.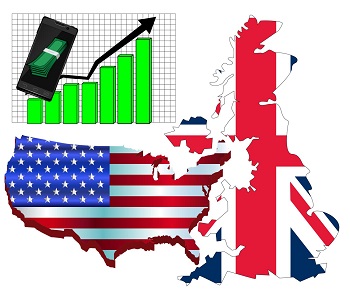 According to Sandeep Dave, the head of global digital strategy at Citigroup, "What we found this year is actually pretty stark." He explained that "The incipient countries that have a long way to go, they almost showed a zero improvement against 2014 scores [while] the materially ready countries showed the most improvement."
At the highest end of the index, Finland has found itself in the top spot for the third year in a row. Singapore is in second place, followed by the United States. The United Kingdom jumped upward in the index by three places in 2015 when compared to its position in 2014. This brought the U.K. to the fourth spot in the most recent index.
Mr. Dave underscored the fact that, as a whole, progress was not rapid in 2015 in terms of the adoption of mobile payments in favor of cash and checks. He stated that the most recent research from the firm indicated that the primary barrier to the use of the digital transactions was consumer attitudes as the tech, market support and digital money products and wallet apps are all essentially available where they need to be.