McDonald's teams with Ant Financial in order to support mobile shoppers
McDonald's has partnered with China's Ant Financial, a subsidiary of Alibaba, in order to support mobile payments. The company sees major promise in China's mobile commerce market, especially as consumers begin to look for ways to pay for products in a convenient fashion. Some 2,100 of McDonald's stores in China will now be accepting payments made through Alipay, which is the country's most prominent mobile payments service.
Company has plans to fully support mobile payments in China by 2016
McDonald's stores in Shanghai will be the first to begin supporting mobile payments. By March of 2016, all of the company's stores in China will be accepting mobile transactions. Ant Financial suggests that consumers using Alipay can complete a transaction in only two seconds, which will ensure that they have access to a convenient service. In order to initiate a mobile transaction, consumers will only have to scan QR codes, which have become prominent tools in the mobile commerce space.
Alibaba continues to show aggressive support of the mobile commerce market in Asia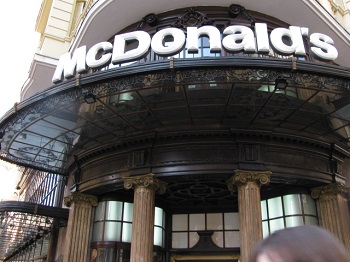 Alibaba has been playing a major role in Asia's mobile commerce space. The company has already established a dominant lead in the Chinese e-commerce space and has moved aggressively into the mobile payments field. Recently, Alibaba announced that it was investing more money into India's mobile commerce market, forming a deal with that country's leading mobile payments company, Paytm. The deal is estimated to be valued at $680 million and is expected to have a major impact on how Paytm supports the growth of mobile commerce in India.
McDonald's stores in the US already support mobile payments made through various services
In the United States, McDonald's has already become involved in the mobile payments space. The company accepts mobile transactions coming from a variety of services, including Samsung Pay and Android Pay. In some cases, QR codes are used to initiate transactions, but NFC technology is also used as an effective way to engage consumers using their mobile devices to make purchases.