Microsoft smartwatch is on its way
|
The software giant is now setting up to create and launch its own wearable technology device.
According to a recent report from Forbes, a Microsoft smartwatch may be one of the next entrants into the wearable technology marketplace, and this device will likely be able to sync will a range of different devices, including those based on Windows Phone (of course), as well as those based on Android and iOS.
The launch of these wearables could be released as soon as this summer, said the report.
The initial reports and rumors on the Microsoft smartwatch suggest that it will include a number of fitness tracking functions, such as being able to monitor the wearer's heart rate. The Forbes report indicated that this information came from "multiple sources with knowledge of the company's plans." While it does appear that a summer release is planned, the specific date has not yet been revealed.
It has been speculated that the physical appearance of the Microsoft smartwatch may resemble the Gear Fit.
The look of the new wearable mobile device could be similar to the Samsung competition in that it would offer a touch screen in full color that would be worn on the inside of the wrist. The battery is expected to last two days on a full charge, which is also comparable to the Gear Fit. This device should be able to monitor heart rate throughout the length of the day, said Forbes' sources.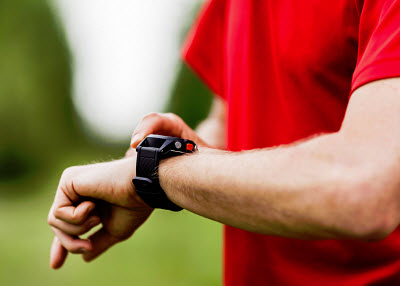 That said the Forbes report also stated that an official spokesperson from Microsoft stated that the company did not have any information to share at this time. Other media outlets were also told that the software giant was not prepared to make any immediate comment on the matter.
Should the report's information actually be accurate, then it would mean that the Microsoft smartwatch would be only the latest in a rapidly growing range of large tech players who are working their way into the wearables space. Sony and Samsung have already released more than one generation of their devices, smaller participants such as Pebble have managed to lead the way with their own versions of the technology, and others like Motorola and LG have revealed that theirs are on the way. The iWatch from Apple remains a highly anticipated rumor.