KISS teams with Aurasma to embrace augmented reality
|
KISS uses augmented reality for new studio album
Legendary rock band KISS has teamed with Aurasma to bring their latest album Monster to live through augmented reality. The band's 20th studio album will be its first to feature augmented reality and the content that will be contained within the album will be aimed at providing fans with an engaging experience. KISS fans will be able to see 3D animations developed by the band and Aurasma using their smart phones or other mobile devices.
Technology provides fans with digital content
Augmented reality often garners acclaim for its entertainment potential. The technology can turn nearly any static product into a highly interactive experience through the use of digital displays and dynamic content. Tech-savvy consumers have taken an acute liking to augmented reality and this has not gone unnoticed by KISS. Thus, the band teamed with Aurasma, a leading developer of augmented reality, to present fans with something new.
_____________________________________________________
Ad -

#1 Ways to Double Your Productivity For Life
By Jason Fladlien, referred to by many as "One of the top 5 living marketers on the planet". How did he get there? By working smart. Get twice as much out of your day with Jason's easy system -
Learn More Here
_____________________________________________________
KISS far from pioneer of augmented reality
KISS suggests that Monster is the first rock album to make use of augmented reality, but this is not the case. Nearly three years ago, Portuguese band Blaster Mechanism released an album featuring augmented reality artwork called Mind At Large. Nonetheless, K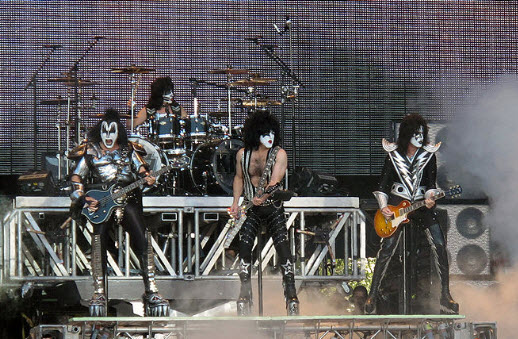 ISS is eager to promote the augmented reality capabilities of its new album and encourage fans to access this content using the Auramsa mobile application, which is available for both iOS and Android platforms.
Band may use augmented reality again in the future
KISS is not the first in the music industry to use augmented reality and it will likely not be the last. The technology has managed to win favor with the music industry because of its potential in marketing and consumer engagement. Consumers have responded well to the augmented reality campaigns that they have been confronted with from the music industry, adding fuel to the proverbial fire. KISS currently has no further plans for augmented reality that it has announced, but if fans show enough support, the band may opt to make use of the technology again in the future.