Facebook may have deliberately crashed its own mobile app
Reports have been made that the social network deliberately sabotaged its own application to test user loyalty.
Facebook has now been accused of deliberately crashing its own mobile app as a part of a test of its user patience and loyalty so they can better understand how dedicated people are to the social network.
This isn't the first time the social media platform has been involved in psychological testing of its users.
The accusation came in the form of a report published in The Information entitled "Facebook's Android Contingency Planning." The report stated that the social network was "testing how addicted Android phone users are to Facebook apps and making sure they can quickly download them directly from Facebook rather than through Google Play." The publication said their source was an individual who was familiar with that specific experiment.
The suggestion in the report was that plans were being made in case the mobile app was taken down from Google Play.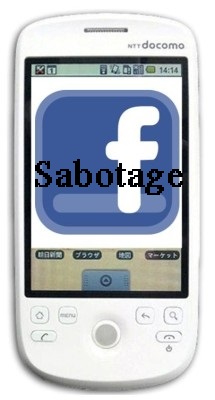 Within the report, it said that "artificial errors" were deliberately introduced into the smartphone application which would cause it to crash "for hours at a time." It claimed that the reason the test was being conducted was in order to "prepar[e] for the eventuality that it leaves the Google Play app store."
As a part of this, the social network deliberately crashed their mobile application for some of its users, off-and-on, over a span of a number of weeks. The goal was to measure whether or not those individuals would prefer to visit the mobile website or whether they would simply give up on using Facebook. What they found was that users were, indeed, willing to use the mobile site instead of abandoning their use of that social network.
Allegedly, this entire psychological experiment on Facebook users was to find out whether or not users were addicted enough to the social network that they would continue to use the platform even if the mobile app were to face difficulties or even be removed from the Google Play Store. At the time of the writing of this article, Facebook had not yet made any official statements with regards to this accusation.
About The Author
JT
John Torney is originally from New Jersey and a full time writer. He recently finished up a long term commitment where he worked in a tutoring program for underprivileged students that show an interest in a writing career. John has shown a special interest in technology and the mobile craze - which comes out in his articles. He has written scholarly papers, articles and reviews on topics ranging from insurance to technology news. Father of two young children, he keeps himself plenty busy!