According to some of the recent statistics from the country, this figure had been reached by the end of June.
A statement that was released by the Ministry of Industry in China has revealed that a massive 94.5 percent of people across the country were equipped with mobile devices – primarily phones – by the close of June, this year.
That is considered to be an official data report within the country and the stats will be those used by the government.
The Ministry of Industry and Information Technology released the statement based on the mobile devices data from the first half of this year. It revealed that this year, there were an additional 6.88 million new mobile phone users on top of the previous figure, which brought the total of users across the country to an estimated 1.29 billion. There was a 100 percent ownership penetration recorded for cell phone users 9 different provincial-level regions, which included the provinces of Zhejiang and of Guangdong, as well as in the cities of Beijing and Shanghai.
The mobile devices are seen as contributors to the spread of internet access in China.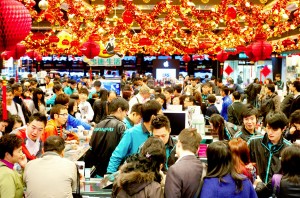 Furthermore, the number of Chinese users who opted for broadband mobile internet services (including 3G and 4G) rose to the level of 674 million by the close of the first half of the year. It included 52.1 percent of all smartphone users.
That said, when it came to 4G mobile network, specifically, which is the internet service that is currently the fastest in the country and that is above and beyond other methods previously available in the country, has spiked to reach notably higher levels than in previous data collection. By the end of June, the recorded total had reached 24.69 million more than the figure that was recorded only one month beforehand.
This brought the total number of mobile devices connecting to 4G internet to 225 million. In a country in which home computers that were connected to the internet did not reach the levels that were recorded in many western nations such as those in Europe and the United States, this is clearly showing a rapid expansion of faster internet services to people who may not previously have had regular access to them.