The new smartphone application is meant to help guide people in English, Korean, and Chinese.
The Mitsui Sumitomo Insurance Company has now released a mobile app that has been designed to be able to provide tourists in the country with the information that they need in English, Korean, or Chinese, in case a natural disaster should occur.
Company officials explained that the mobile application will guide visitors to the country to safety.
The mobile app is aimed specifically at tourists and exchange students that are visiting from other countries and who don't necessarily know the procedures in the event of a natural disaster while they are in Japan. A Japanese language version of the mobile application was already launched back in 2012. Since that time, it has been downloaded 500,000 times.
The new multilingual version of the mobile app will contain the same functions as the original Japanese version.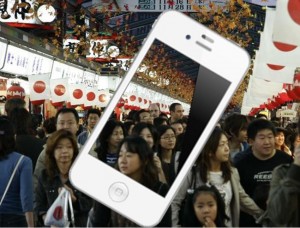 This smartphone app has been built with a number of different functions, including an important map feature that identifies evacuation centers that are located nearby. These features are available through the app regardless of whether or not the device is able to connect to the internet at the time, provided that it has already been downloaded.
The cell phones of the users can provide very accurate directions from precisely where the user is. They simply need to aim their mobile devices at the buildings that are located nearby. The application is able to recognize them and will provide them with evacuation center location details based on that specific spot.
Mitsui Sumitomo Insurance has been able to come to agreements with seven different local authorities that are located across the country in order to publicize the positions of the evacuation centers by way of the Japanese version of the software. Now, the hope from the insurer is to be able to connect with a larger number of universities and regional authorities so that they will be able to take part in the multilingual version, as well.
The agreement that was established for the mobile app with the Narita airport operator located near Tokyo will help the insurance company to be able to offer guidance options around the airport for tourists to the area, as well.