IBM report shows that mobile traffic and shopping is on the rise in the US
Mobile now accounts for nearly half of all online retail traffic in the United States, according to the latest IBM Digital Analytics Benchmark. The report highlights the growing importance of the mobile space and how it is having a major impact on commerce in the digital world. The report makes note of the mobile commerce activity on Valentine's Day, showcasing an increase in mobile shopping over what was recorded on the same day in the previous year.
Mobile traffic accounts for nearly half of all online retail traffic this year
According to the report, online shopping, as a whole, grew by 10% on Valentine's Day. This may be due to numerous factors, including cold weather and powerful storms in some parts of the country. The report shows that mobile traffic accounted for 46.5% of all online traffic, highlighting the fact that many consumers are now using their smartphones and tablets to shop online. Higher traffic does not represent more sales, however.
Mobile commerce still represents a small portion of digital sales when compared to PC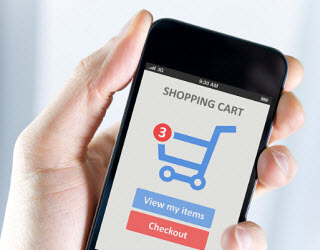 The report shows that mobile commerce represented 23% of all online sales, which is a 35% increase over mobile commerce sales last year. Mobile still represents a relatively small portion of online retail sales, however, as sales made from PCs remain the most significant force in online retail. The report shows that tablet users typically spent more than their smartphone counterparts. Tablet users spend an average of $98.56 per order, whereas smartphone users spent an average of $92.37 per order.
Mobile commerce continues to thrive because of its convenient nature
While PC still dominates the online retail space, mobile commerce is beginning to become a more prominent force. Many consumers are opting to shop for and purchase products from their mobile devices because of how convenient such a practice is. In the coming years, it is likely to become more common for consumers to participate in mobile commerce, especially during the holidays, when they want to avoid crowds and enjoy a convenient shopping experience.