Smartphone battery charger comes in the phone of solar benches
|
A new tech startup called Changing Environments has invented public seating that uses the sun to charge mobiles.
Changing Environments, a startup based in Massachusetts, has now announced its invention of a public bench that acts as a solar powered smartphone battery charger that could be used by Boston residents and visitors to recharge their mobile devices.
The company is also working on collating data on the setting surrounding that urban area.
The smartphone battery charger bench is called the "Soofa". It has a built in solar panel that can build up the energy needed for members of the public to be able to charge up their mobile devices such as cell phones and tablets using USB ports. Previous efforts to provide the public with USB ports have come to a halt after there were some serious mobile security concerns voiced regarding the risk of hackers that could use them to spread viruses.
The CEO of the company explained that these solar smartphone battery charger benches are equipped with powerful mobile security.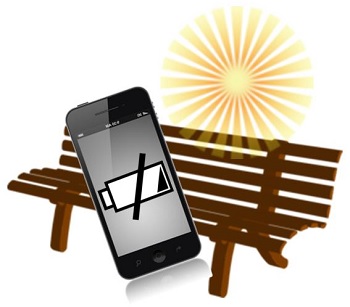 Chief exec of Changing Environments, Sandra Richter, assures users that the Soofa mobile device charger is equipped with stringent security measures in order to help to prevent attempts to use the USB ports for this type of malicious activities.
_____________________________________________________
Ad -

#1 Ways to Double Your Productivity For Life
By Jason Fladlien, referred to by many as "One of the top 5 living marketers on the planet". How did he get there? By working smart. Get twice as much out of your day with Jason's easy system -
Learn More Here
_____________________________________________________
The recharging ports are housed within concrete boxes. These boxes are fitted with security screws that, according to Richter, can be opened only by staff from the company. Should brute force be used to try to force the boxes open, it would automatically disable the electronics within the box.
Beyond providing the public with a free mobile device recharging station, the Soofa also has a computer built into it that gathers data with regards to the urban environment in which it has been placed. This information is wirelessly sent over the internet. Among the types of data that are gathered by the benches is the amount of sunshine that is received by the bench. This collected information will soon be expanded to include other environmental details, such as noise levels, air quality, and the flow of pedestrians around the smartphone battery charger benches.