Mobile apps are changing the dating game
While the internet has already greatly changed the way that people meet, smartphones have taken that to a new level.
When it comes to the dating scene in the United States, smartphones and mobile apps are starting to play an increasingly important role, as these applications help to make the process convenient in busy lifestyles.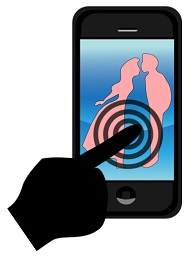 The primary feature that these applications seem to have to offer consumers is convenience.
While they don't appear to be any more successful – so far – than any other types of online dating services, the fact that they are convenient appears to be making them highly appealing to consumers is that they can be quickly and easily accessed over a mobile device instead of having to use a website on a computer.
These mobile apps don't yet seem to have all of the details hammered out quite yet.
While consumers don't seem to be completely satisfied with the experience, quite yet, the number of users of these applications is rapidly increasing. This is likely due to the effect of word of mouth, and the increasing reliance that many people have on their mobile devices for their day to day activities. Moreover, these apps can give people the chance to discover new people in real time, based on their actual location.
Daters can use apps to post their pictures and view those of other people who are located nearby. If they happen to spot someone they find attractive, they can swipe the picture and indicate that they are interested. If the owner of the picture reciprocates the swipe, the app allows them to contact each other so that they can arrange to meet.
Data from the Pew Research Center has shown that approximately 3 percent of Americans have tried the online dating experience with traditional websites. Aaron Smith, from that organization, pointed out that when it comes to dating apps, those who are using them are typically "quite young, primarily people in their mid-20s or 30s" and very tied to their smartphones."
These mobile apps have now been around for a while and offer a broad range of different features and opportunities, including integration with social media.
About The Author
Lucy
Lucy is a stay at home mom that loves to write. Mother of three, she keeps herself busy, between writing and playing taxi cab! She is originally from Los Angeles and keeps herself in the trend loop with many social networking groups she has formed. She attended UCLA and has found her home as a writer for now and in the future.