Augmented reality app lets brides to be try on wedding gowns
|
This AR technology experience provides women with a virtual image of the way they'd look in various dresses.
A new augmented reality app is giving brides to be the opportunity to discover the perfect wedding dress styles for their body type and personal taste, and all this without ever having to step into a brick and mortar store.
This tool has been created to help to reduce the strain on wedding planning that can be felt by many brides.
While choosing a gown is meant to be a happy experience, many brides find that they feel overwhelmed by all of the planning involved in a wedding and all of the various dress options can become the straw that breaks the camel's back. Even among those who are keeping up with the planning, dress shopping can be highly time consuming and difficult to work into a very busy schedule. This new augmented reality app is meant to help to make this process much easier and cut out a lot of the time and stress that can be associated with it.
The augmented reality app can provide brides with the chance to see what styles, silhouettes and fabrics look best on them.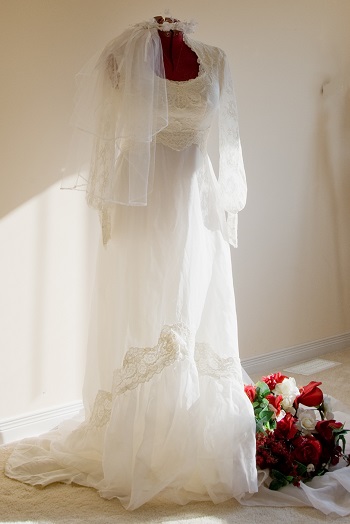 According to the Wedding Dress Studio app executive director, Hillary Sica, "With thousands of wedding dress designs available today, dress shopping can be very overwhelming for a bride-to-be." She added that "We designed Wedding Dress Studio to alleviate some of that burden and help women visualize what silhouettes, styles, and even dress fabrics will potentially look the best on them."
The company that designed the app used AR technology to help brides to be to be able to better visualize the way that a certain type of gown will look on their own unique bodies. That way, when they do head to a bridal salon, they will be equipped with a far clearer idea of what she does and does not want from her gown, narrowing down the number of choices, right from the start.
The dresses displayed in augmented reality are not actual dress designs but are instead simulated style, silhouette and fabric types that are similar to their counterparts in reality.