Wearable technology sales to break 17 million this year
|
Analysts are predicting that this will be one of the top tech trends of 2014 and that it won't stop there.
According to Canaly, the market analyst, the sales of wearable technology might be breaking the 17 million mark by the end of 2014, and that this trend will be greatly driven by strong sales in smartwatches.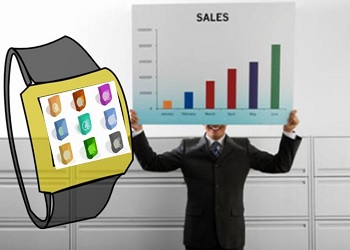 These pricy tiny mobile devices worn on the wrist have become surprisingly popular.
While the wearable technology market may still currently be small, the predictions form Canalys are that this will have dramatically changed as soon as the end of the year. The range of these mobile devices and the competition that is starting to build is making it easier for consumers to find just the right gadget that will appeal to them enough to drop the money for them.
Smartwatch sales forecasts will dominate the wearable technology market with a predicted 8 million sales.
According to the report that was released by Canalys, at the moment the market for these wearable mobile devices is pretty small and that it is focused primarily at fitness enthusiasts, such as in the form of bands that are worn to track heart rate or steps taken. However, the fact that even this specific market has taken off as quickly as it has shows that they "represent a massive opportunity in the medical and wellness segment".
The report also stated that this year will be the one in which these devices "become a key consumer technology, as the smart band segment is estimated to reach 8 million annual shipments."
The report pointed out that in the second half of 2013, there had already been 1.6 million smartwatches and fitness bands sold. This was made pushed along considerably by the release of the Sony SmartWatch 2 and the Samsung Galaxy Gear.
The marketing that Samsung has put forward for its Galaxy Gear wearable technology has generated a considerable amount of exposure and interest from consumers. The shipments of those specific devices spiked the brand to the top of this category, although additional promotional activity will be needed over the next few months in order to overcome the sell-through that has been somewhat less than expected, so far. This, according to Canalys principal analyst and vice president, Chris Jones.