Wearable tech provides mobile payments capabilities at Lollapalooza 2014
|
The massive U.S. music festival will be able to complete transactions without the need for plastic cards.
The organizer of Lollapalooza 2014 has now announced that it will be issuing wristbands to its attendees that include wearable tech, so that they can use them throughout the event which runs from August 1 through August 3.
These plastic wristband wearables will each contain their own unique RFID chip.
Once the visitors to the festival have entered the grounds, the wearable tech will give them the ability to make mobile payments at various stalls and bars through the simple tapping of the device against a terminal. They must then enter a pin in order to confirm the payment, and this will eliminate the need for carrying cash or credit cards in order to buy items, food, and drinks.
The wearable tech will be set up for the attendees ahead of entering the Chicago Lollapalooza site.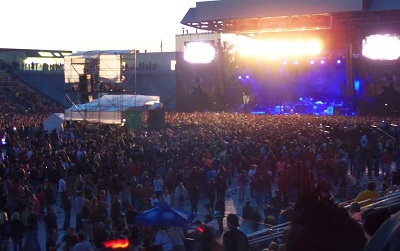 Ahead of entering Grant Park, where the music festival is held, the participants in the event will be able to use the official website for the festival in order to be able to upload their credit card details. The wristbands will then be issued to the attendees in advance so that the attendees can link their own mobile payments details with their wearables.
On the day of the festival, participants wear the wristbands so that their entry to the event can be monitored and so that they can use the device in order to make the purchases they want, without having to carry cash on them and without having to take out their plastic credit cards every time they want to buy something.
C3, the company that is behind the organization of the Lollapalooza festival – as well as a number of other concerts and events – believes that it won't be very long before using wearable tech will become the norm not only among the festivals that they organize, but among others, as well. The practicality, traceability, and convenience of the technology provides important benefits to organizers, sellers, and attendees in a highly cost effective and user friendly way.