Even though the brand spent more than usual on advertising this quarter, its results were still better than expected.
Nike has reported that even though it spent more on advertising such as social media marketing as the FIFA World Cup got underway, it still managed to achieve results that were stronger than expected for its fiscal fourth quarter.
The company has stated that strong social media played an important role in this success.
The brand explained that the gains that it experienced were the result of a number of different efforts, which include strong social media marketing campaigns, new products, and a digital advertising strategy that was well received, including the "Risk Everything" campaign. As a result of this, the company not only saw its revenues rise, but they increased notably higher than they had anticipated.
This helps to illustrate the strength of a well implemented social media marketing campaign.
It reported that its revenues rose by 11 percent to reach $7.4 billion. The Nike brand product sales increased by 13 percent to break the $7 billion mark. Its Converse revenues also rose by 15 percent, to reach $410 million. The brand also pointed out that these revenue increases were experienced in every one of its regions and in its key categories, as well as in their children's, men's and women's businesses. Their profits rose by 5 percent, to hit $698 million.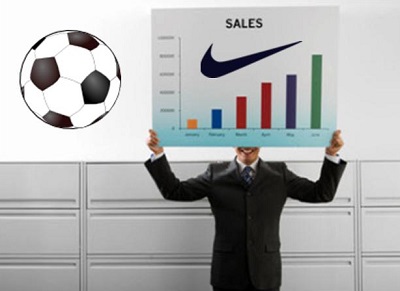 According to the president and CEO of Nike, Mark Parker, "An ongoing two-way dialogue with consumers is a critical element of our digital ecosystem." He also went on to explain that this type of interactive experience offers the brand considerable innovation driving insights that boost the connection between the consumer and the company's brands. Social media and mobile marketing also offer a platform over which consumers can interact with each other, not just the brands, themselves.
Parker added that "Through our social media platforms, we leverage the power and passion of sport to deepen our relationship with our consumers."
As companies and brands continue to discover the ways in which they can properly implement social media marketing campaigns, it is clear that this type of success story will become increasingly common.