McDonald's social media marketing creeps out the public
Social media users find new Happy Meal mascot from the fast-food giant "horrifying".
McDonald's Corporation recently introduced its new character, Happy, on Twitter, but their social media marketing did not produce the desired effect the company was hoping for because instead of a positive response, twitter users responded with fear and mockery.
Happy was designed to promote healthier Happy Meals for children but is now regarded as an "epic fail".
Shaped like a happy meal box, Happy has bug eyes, a huge grinning mouth with a full set of big teeth, long, skinny rubbery arms and short skinny legs with running shoes. Since the mascot's release, it has mostly generated negative social media news attention, with many people calling it "creepy" and "horrifying". Some of the comments left by social media users after watching the video featuring the mascot on McDonald's facebook page included "Epic fail" and "This makes me crave Burger King". Not exactly the types of responses and feedback McDonald's was aiming to receive.
However, McDonald's is still hopeful that children will like Happy more than the average social media user. According to an Illinois based McDonald's in Oak Brook, the new character "is about bringing more fun and excitement to kids' meals, including eating wholesome food choices like low-fat yogurt." The company added that the mascot will motivate children to eat more vegetables and fruits and to choose healthier drink options, such as milk, juice or water, over soda.
Despite the negative response to McDonald's social media marketing of Happy, the company still has confidence in its character.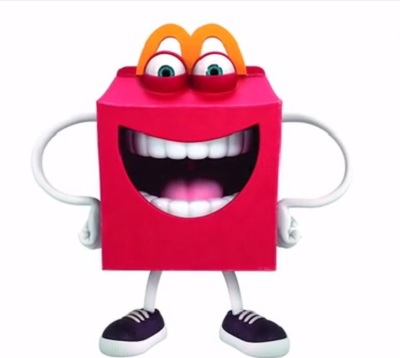 Happy may be new to America, but this character was introduced in France back in 2009 and has since made its way to other countries in Europe and in Latin America. On May 23, Happy will officially begin appearing across McDonald's in the U.S.
Obesity is a serious problem in America and in an effort to help improve nutrition, the popular fast-food organization is attempting to reach out to children and encourage them to choose healthier options. In addition to the smaller-sized fry portion and offering apple slices in its Happy Meals – changes that were made in 2012 – McDonald's now intends to offer kids a low-fat yogurt side, which will be introduced July 4.
Only time will tell if Happy is an actual success or if it will terrify kids as much as it did online and mobile users via social media marketing.
About The Author
Amanda Giasson
With several years of experience in freelance writing and editing, Amanda Giasson enjoys using her talents as a news writer to report on the diverse and intriguing topics happening within the mobile technology and mobile commerce industries. Follow Amanda on Google+