Subway is introducing new payment options through its websites and mobile application
Famed restaurant chain Subway is taking another step into the mobile commerce field by offering a new payment option through its mobile application. The new option will support PayPal transactions and is meant to make ordering and paying for food more convenient for customers. Subway intends to see more people use its mobile app and believes that integration with PayPal will help with the application's appeal to consumers that are beginning to rely more heavily on their mobile devices.
Company seeks to become more flexible in order to meet the needs of its customers
Ken Moy, Subway's director of global payments and emerging commerce, notes that the company has recognized the advent of mobile devices and the role they are beginning to play in the evolving field of commerce. Subway wants to establish a greater presence among mobile consumers, who are looking for more convenient way to purchase products that they are interested in. In order to accommodate the needs of consumers, Subway is looking for new ways to become flexible and engage consumers.
PayPal integration will be completed by the end of this year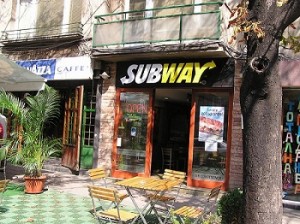 By the end of this year, PayPal will be fully integrated into the Subway mobile application. Mobile payments made through the app will be supported at more than 27,000 Subway locations throughout the United States. The company's mobile application is being powered by technology developed by Paydiant, a mobile wallet developer that was recently acquired by PayPal. Subway restaurants will support mobile payments made in person and payments will also be supported online through the company's website.
A growing number of companies are beginning to take mobile payments more seriously
Mobile payments are beginning to play a major role in the business world. More companies are working to find ways to support these payments in order to satisfy the demand coming from consumers that have become interested in mobile commerce. Subway is one among several companies that have begun to play a larger role in the mobile commerce space.