Apple Pay will put the electronics giant in direct competition with services like Google Wallet and PayPal.
Apple Inc. announced on September 9 that it would be introducing a mobile wallet service entitled Apple Pay to its new iPhone 6 mobile devices, which were also unveiled at the event last Tuesday, and the company revealed that its digital wallet is integrated with its fingerprint ID security system and Passbook credential-storage app.
Apple Pay lets iPhone 6 users pay for purchases in-store with their smartphone.
Users will also be able pay for purchases using the service online though apps. According to Apple, using its payment systems is more secure and convenient than using a debit or credit card. Since Apply Pay has been designed to fit in with Apple's Passbook app, which already enables users to store merchant loyalty cards, store coupons and tickets, the service is fairly simple to use.
To utilize the mobile payments technology within physical stores, users merely need to wave their smartphone in front of a compatible terminal to pay with one of their credit cards stored on the app. The payment is sent to the terminal via near field communication, also known as NFC technology, which is made possible through a chip that has been embedded in the new phones.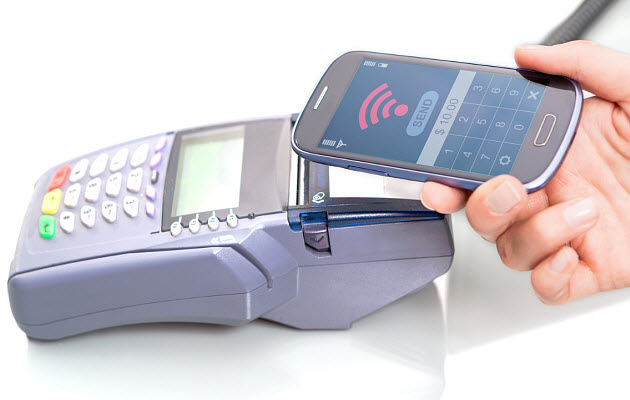 Currently, tens of thousands of retailers across America will accept it. Some of these include well known companies such as Macy's, Target, Whole Foods Market, Starbucks and McDonald's. This will give iPhone 6 users the ability to buy just about any item with a simple wave of their smartphone.
In addition, Apple's partnership with payments processing start-up Stripe will help small app developers to power their transactions using Apple Pay.
The Apple Pay mobile wallet could make mobile payments more popular.
Aside from retailers, Apple has teamed up with three major credit card companies, Visa, MasterCard and American Express. These deals may help Apple succeed in the mobile payments space where other companies have so far had no luck.
According to the CEO of Visa, Charles W. Scharf, "Lots of companies have tried this before, but our security and the Apple payment experience will be the two biggest drivers here." If more Apple users begin to use their smartphones to make payments, this could push other companies with digital wallet services to make similar deals with credit card companies and retailers.
At the moment, many analysts believe that if there is any company that can persuade consumers on how valuable a mobile wallet can be, Apple is the one to do it.