In Poland, mobile technology penetration has reached 91 percent
|
This rate of device use in the population is currently sitting among highest levels in all of Europe.
According to a recent survey conducted by CBOS, a pollster firm, the penetration of mobile technology is higher in Poland than it is in most other countries, as 91 percent of the population has a cell phone of some form, which is used regularly.
That said, it should be noted that the penetration of smartphones, specifically, is not incredibly high.
The CBOS survey revealed that only 35 percent of Polish people have smartphones. Another 41 percent have classic or feature cell phones, and 15 percent are owners of both types of this mobile technology. The survey went on to examine the ownership of the various types of cell phone with greater depth in order to gain insight into who is keeping the traditional style of classic device and who is taking the step into the more recent tech by purchasing smartphones.
What was discovered was that the newer the mobile technology, the younger the owners of the devices.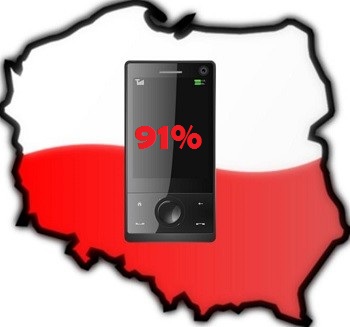 The research determined that the people whose mobile devices were smartphones were more likely to be among the younger age groups. Moreover, those with smartphones were also likely to be better educated than those who were owners of feature phones or classic devices.
_____________________________________________________
Ad -

#1 Ways to Double Your Productivity For Life
By Jason Fladlien, referred to by many as "One of the top 5 living marketers on the planet". How did he get there? By working smart. Get twice as much out of your day with Jason's easy system -
Learn More Here
_____________________________________________________
According to the report published by CBOS based on this mobile tech ownership survey in Poland, "Over three quarters of [polled] mobile phone users (78 percent) send and receive text messages via their phone. Among the less typical features of mobile phones, the most popular (57 percent) was the onboard camera."
The survey provided some interesting insight into the ownership and usage of these mobile devices in Poland, as it is clear that the population is interested in this type of tech, but at the same time, the penetration rate of smartphones remains notably lower than it is in many other European countries.
It is likely that the next few years will be defining ones as there will likely be a shift in the type of mobile technology that is owned by various different demographics as has been the case in other similar markets around the world.