Retale survey shows that consumers are embracing PayPal as the leading mobile payments service
Consumers are showing more interest in mobile payments, according to research from Retale, a location-based mobile platform. The research shows that 43% of consumers in the United States have used a smartphone or tablet to make an in-store mobile transaction. This is an increase from the 36% of consumers that did so last year. PayPal has become the most popular mobile payments services among these consumers, through shoppers tend to use a wide variety of solutions.
61% of shoppers will be using their mobile devices to make holiday purchases
Retale surveyed some 1,000 shoppers in the U.S., finding that 61% of these shoppers said that they would be using their mobile devices to purchase a gift this holiday season. Many consumers have been showing interest in mobile payments because they see it as more convenient, with payment services allowing them to simply tap a mobile device to a payment terminal to make a purchase. The survey from Retale shows that 63% of consumers believe that retailers should provide some sort of in-store mobile payment support, as this may improve the shopping experience.
Mobile shoppers use their smartphones to purchase clothes, food, and send gift cards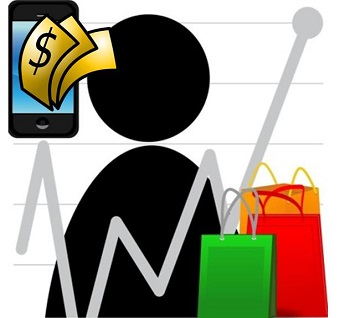 Among mobile shoppers, clothing is the category that experiences the most activity. Approximately 44% of consumers have used their mobile devices to purchase clothing products during this holiday season. Another 41% have used their smartphones or tablets to purchase food. Gift cards have also become a popular item for consumers doing their holiday shopping, with 30% sending gift cards via their mobile devices.
Retailers will have to make mobile payments more secure in order to find continued success
The mobile payments sector has generated a great deal of momentum during the holiday season, which is likely to carry over into the beginning of next year. Retailers are becoming more mobile-centric, hoping to better engage mobile consumers. These retailers will have to find ways to protect consumer information in order to ensure that they continue to find success in the mobile payments field.