Mogix Accessories has now announced that is re-releasing its flagship Slim Fit 10,400 mAh capacity portable charger with a considerable upgrade and an ultra-low price.
The re-launch is being paired with an unbeatably low price, at $7.99 and limited 1 per person due to this is such an extreme cut in price. Since the regular retail cost for this ultra light external battery charger is regularly $79.99, the Amazon sale price is marked down to $22.99 which is lower than ever before but with this limited time promotion, the $7.99 price is less than cost of the electronics accessories company.
To take advantage of the sale, shoppers need to go to the company's Facebook page, where they will be posting updates on what hours this exclusive coupon deal will run. Once someone has received the coupon, put it into the Amazon promotional code area, the price will automatically be adjusted to $7.99, and shipping is free for Prime members.  The sale will run from Tuesday, March 1 through Thursday, March 3, for a few hours per day while supplies last.
The Slim Fit 10,400 mAh portable charger is still the slimmest and lightest of its capacity (weighing only 6.5 ounces and about the same shape and size as an iPhone), but it has now been upgraded to include a faster recharging time.  Though it was previously made with a 1A charging port, it now features 2A input, needing half the time to recharge itself than its previous generation.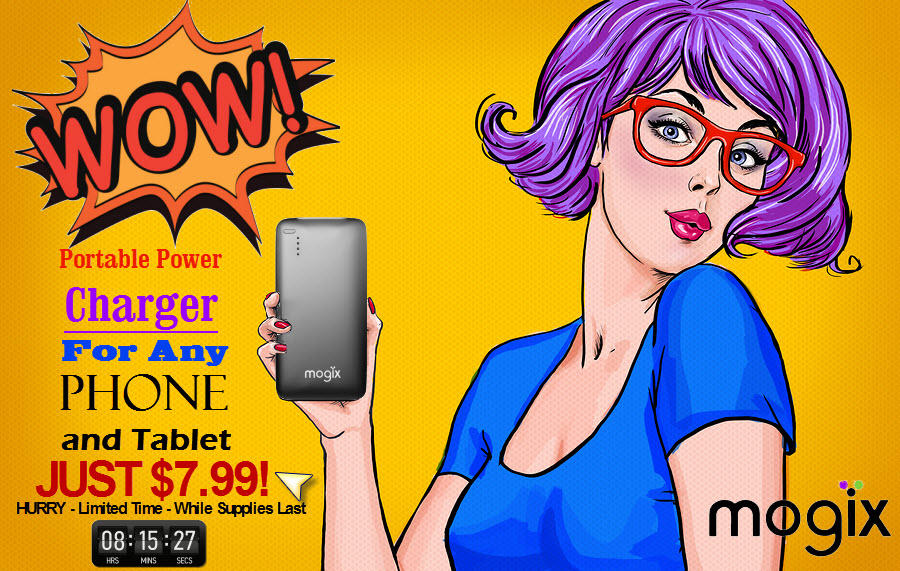 It is a universal power bank that will work on any phone, tablet, or other rechargeable device that can power up through a USB cable.  In fact, it has two recharging ports, which makes it possible for two devices to be juiced up at the same time.  The capacity of this power bank is enormous, allowing an iPhone 6 to recharge approximately 4 times, or a Samsung Galaxy 6 to recharge 3 times, before it needs to be plugged in again.
The company also offers a compact electronics case with massive amount of storage in a tiny amount of space.  It can easily fit 2 portable chargers, cords and cables, disks, USB drives, and more.
The CEO at Mogix, Dan Leves, explained why the re-launch of the top-selling device from the company with such a low price point.  "Our product has recently been upgraded with a fast recharging feature and we want to get some activity to it to help improve our visibility to new customers."
This is the lowest possible price for this battery pack and will be available for only a limited time as well as a limited amount of units. The Slim Fit power bank and electronics case are the ideal combination for travel, school and work. It is a simple solution to overcoming the frustration and inconvenience of a dead battery at the worst place and time.  At this price, it is more affordable than it has ever been.
Contact Information:
For Promo Deal: www.mogixaccessories.com/promo
Mogix Accessories
www.mogixaccessories.com