Oh, I just love carrying around 40-pounds worth of cookbooks while I commute to and from work…said no one ever. Sure, print cookbooks are great, nothing can beat those large glossy photos and full-page ingredient lists, but they're not the most practical reference guide when you have 10 minutes between work and the grocery store to figure out what's for dinner tonight. Cooking apps to the rescue! With wireless Internet for tablets and other hand-held devices, cooking apps are like having a professional chef helping you in the comfort of your own kitchen.
Mario Batali Cooks
This app for regional Italian cuisine includes 63 of Batali's most popular recipes, plus tons of videos on basic kitchen techniques. Batali is credited with creating 100 percent of the content himself. So if you ever wanted to take personal cooking lessons with a celebrity chef, the Mario Batali Cooks app gets you pretty darn close. The app features the ability to browse recipes according to prep-time, season, Italian region or kid-friendliness. Wine pairings and full images are included with every recipe. The cost of the app is $9.99, and it's compatible with iPhone, iPad, iPod Touch and Android.
Simply Organic Recipe Application
The Simply Organic app contains more than 1,400 recipes that feature organic foods. Search the database by ease of preparation, name, time or your personal ratings. With a single finger tap you can view a complete ingredient list, nutritional facts, chef suggestions and step-by-step instructions. Download the app for free on your iPad.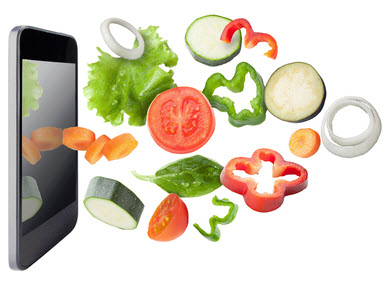 iCookbook
As the winner of the 2012 and 2013 Appy Awards, among many other prestigious tech awards, it's safe to say iCookbook is "The Joy of Cooking" for a new generation. It's made to appeal to everyday cooks who are preparing meals for families and want easy, delicious, healthful, budget-friendly recipes. iCookbook includes more than 2,000 recipes with new recipes available every month for free. The Meal Builder feature allows you to drag and drop recipes to create your own meals, and you can save all your favorites in My Recipe Box for easy access. This app is available on Windows 8, Android and Apple products — all for $4.99.
Grub Hub
Okay, it's not technically a cooking app, but who wants to cook every night? With Grub Hub and the Internet, you can have a tasty meal delivered to your door any night of the week wherever you are. This clever app was invented by two hungry friends who were no doubt tired of sifting through junk drawer menus and racking their brains trying to remember the answer to the age old question: "Who delivers?" The Grub Hub site explains how easy to use their app really is: Enter your address, and the app lists all of the local restaurants that deliver. After ordering, you can track the progress of your dinner and even change your order if you're quick enough. The app is free to use, and the site's secure, meaning you don't have to worry about paying with a credit card. Grub Hub is compatible with Apple products including iPad, iPhone and iPod Touch.
Diana Baird
Diana is a nutritionist from Connecticut. When she's not helping clients with dietary advice, she writes health and fitness articles for various blogs.