The NBA Finals MVP has declared that wearables are exceptionally helpful to athletes.
Andre Iguodala has given tremendous praise to wearable technology when he recently spoke about the role that it played in the title win by the Golden State Warriors.
Wearables have been increasing in popularity among athletic teams and individual athletes, alike.
Iguodala spoke at a panel, recently, where he said that "The wearable market helps athletes more than anybody. You can say they helped us win a championship." This is no small statement, as wearable technology was just credited with assisting the athletes to an actual championship win. Teams have been using these mobile devices at a growing rate to not only better understand the performance of the players, but also to help them to reduce the risk of injury.
The NBA player also recently visited the headquarters of Jawbone in San Francisco for more wearable technology.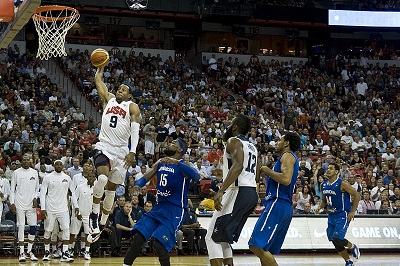 While there, he met with Hosain Rahman, the CEO of Jawbone. This allowed him to share the personal sleep data that had been collected by Iguodala's UP activity tracker and the related mobile application. An analysis was conducted comparing the amount of rest that the player was able to receive and his performance during a game the next day.
What they discovered was that when Iguodala was able to receive at least eight hours of sleep on the night before playing a game, he was able to play for an average of 12 percent more minutes per game, and his scoring was 29 percent higher per minute. Moreover, he was also able to boost his free-throw shooting by an average of 9 percent and he saw a 2 percent increase in his three-point shots. That minimum of eight hours of sleep also led to a 37 percent decrease in his turnovers and a 45 percent decrease in personal fouls.
While it was not the wearable technology, itself, that allowed for the improvement in Iguodala's performance, the device is what collects the data that can then be analyzed in order to understand the relationship between factors such as sleep and other health and wellbeing stats with his ability to play during a game.