Wearable technology line is growing at Best Buy
|
This makes the electronics giants a massive player in the wearables sector of mobile tech.
Best Buy has recently announced that it is expanding its line of wearable technology products and as a part of the marketing campaign for this effort, it has invited consumers to visit the stores to be able to check out the features of the new Pebble Steel smartwatch.
This makes the retailer the only store that has given consumers this wearable tech opportunity.
The Pebble Steel is the latest in the line of smartwatch devices from the brand, which has taken the wearable technology industry by storm through its massive popularity, despite the fact that it is made by a relatively small startup that is up against massive competition from electronics giants such as Samsung and Sony. The company has managed to create a considerable and highly loyal user base.
This wearable technology device syncs with both iOS and Android based devices.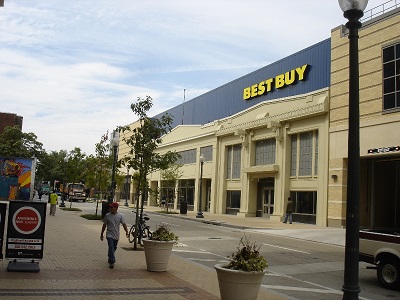 This smartwatch is the latest generation of the original Pebble. That first device is still available at Best Buy and is being sold in Arctic White for $149.99. The Steel, however, is designed to be more elegant and sturdy than the sportier original. Though it is designed on the same hardware platform, it doubles the memory of the original device, which was 64KB. It is currently priced at $229 in the store (though the suggested retail price is $249.
The redesign and upgrades in the Steel were a direct response to some of the issues that consumers had brought to the attention of the company. The founder of Pebble, Eric Migicovsky, said that "We noticed a lot of people saying they wouldn't put it on their wrist when wearing a suit, in more dressed up situations, or even saying they liked it but the look wasn't what they wanted."
The new wearable technology watch will be only one of the many items that Best Buy intends to offer among its selection of wearables. Customers will be able to find the smartwatch in store, as well as online at the company's new site for wearable tech. This includes other smartwatches, as well as fitness trackers and pedometers, action cameras, and other similar mobile devices.