Wearable technology could be a $50 billion industry by 2018
|
A new report from ON World has predicted that these mobile devices will become explosively popular.
A new report has now been released by ON World, a research firm, which has forecasted that wearable technology devices – which include everything from smartwatches to smart clothing and from fitness bands to augmented reality glasses – will make up an industry worth $50 billion by the year 2018.
It expects that by the end of that time period, 700 million of these mobile devices will have been shipped.
The wearable technology report also projected that by the year 2018, there will be 330 million shipments around the world of smartwatches, alone. When this is compared to the 3 million that were shipped on a global scale, last year, it is clear that this represents a staggering growth. The vast majority of the revenue in this area is expected to be from hardware, within that time span. That said, apps and monitoring services – among other subscriptions – should also be taking of throughout that time.
Wearable technology will also experience a shift in the dominant types of device during that time.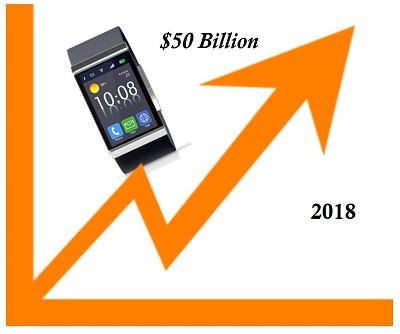 The research firm feels that by 2018, the current leaders in the market, which are health and fitness focused mobile devices, will be replaced by smart gadgets such as smartwatches, augmented reality glasses, and wearable sensors in many different forms. The smartwatch, says ON World, is going to be a highly disruptive force within the current tech market. The company believes that these devices will replace a number of the app needs currently experienced by many owners of smartphones.
_____________________________________________________
Ad -

#1 Ways to Double Your Productivity For Life
By Jason Fladlien, referred to by many as "One of the top 5 living marketers on the planet". How did he get there? By working smart. Get twice as much out of your day with Jason's easy system -
Learn More Here
_____________________________________________________
To support the predictions that it has made, the firm went on to survey 1,000 consumers and determined that among all of the various forms of wearables currently available, 55 percent preferred a device in wristwatch form. Another 38 percent said that they had an interest in the health applications that are offered by these types of gadgets.
The consumer survey also found that the rumored wearable technology from Apple, dubbed the iWatch, is the most preferred, despite the fact that it hasn't even been unveiled, yet. Price is also an important deciding factor that determines a consumer's final choice, as 40 percent were willing to pay over $99, but only 8 percent were willing to go above $299.