Virtual reality technology used for live streaming cancer surgery
|
A surgeon in the United Kingdom, Shafi Ahmed, will be conducting the procedure to be viewed with a VR headset.
A cancer patient in the U.K. will be undergoing surgery on April 14 at 1p.m. local time, and the surgeon, Dr. Shafi Ahmed, will be using virtual reality technology linked to a mobile phone in order to be able to let others experience the live-stream of the entire procedure.
This will allow the surgery to be viewed by people around the world, as though seeing it from a massive operating theater.
The surgeon has been among those at the very head of pioneering virtual reality technology for the purposes of using it in surgery. He believes that the upcoming VR streamed surgery will be a game changer when it comes to medical education and health care innovation. The patient who will be undergoing the surgery currently has colon cancer. He is a man in his 70s and is not being identified by name, but he has said that he is quite excited about the thought that an international medical community will be viewing his procedure.
The operation will be viewable through the use of virtual reality technology headsets at Royal London hospital.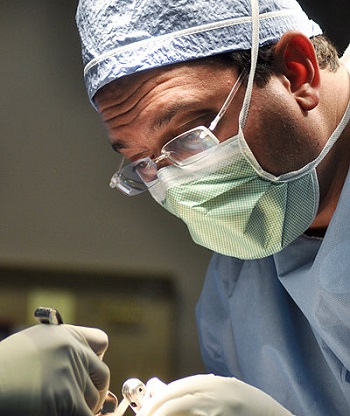 The operation will be filmed through the use of a number of different specialist cameras that will be positioned above the operating table. It is expected that the surgery will continue for two to three hours. The streaming of the surgery will run at a lag of about a minute behind the procedure itself, in case any unforeseen complications should occur.
The use of VR technology could be a very promising experience for trainee physicians who have traditionally needed to try to stand out of the way of the actual surgeons while essentially trying to see over their shoulders. In this case, they will be able to wear headsets and see exactly what is going on, as though they are right there in the operating room with the best possible viewing position. It will also be possible for them to change their viewing angle in order to get a better look at something they wish to see.
Dr. Ahmed discussed the virtual reality technology live streaming of the surgery and explained that "It showcases virtual reality for what it should be used for – education."