Brick and mortar stores had been feeling threatened by smartphone shoppers, but that may not be the case.
As mobile commerce has been picking up at a substantial rate, retailers in brick and mortar locations have been concerned that consumers may begin to be lured online by the ability to shop for a better deal, no matter where they are, instead of heading out to real world stores.
A recent study has shown that shoppers are returning to stores on an increasing basis, to shop in person.
This trend has shown itself in the research of several companies that have been looking into mobile commerce, including Telefonica SA, Tumblr, and Yahoo Inc. This was announced at the Digital Life Design conference that was recently held in Munich, Germany. Though the last few years have shown a greater growth in online shopping than at in-store locations, the mall is beginning to take hold of some of its former share, according to the researcher, Euromonitor's data.
Many in the industry feel that as popular as mobile commerce may be, real life interaction has been missed.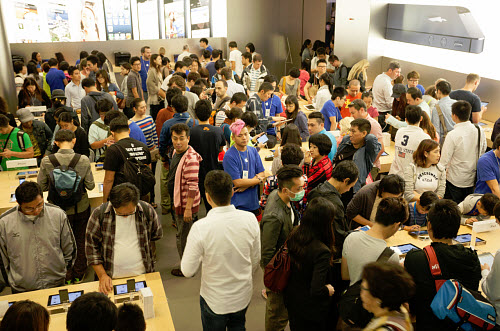 According to the Tumblr head of creative strategy, David Hayes, "People are craving real-life interaction for shopping." Hayes stated that he has worked with Levi Strauss & Co., and Gap Inc. in order to encourage consumers to attend events such as promotional parties and music performances being held in stores. He added that "There's a trend going from URL to 'IRL' – 'in real life'."
While online and mobile commerce have been turning companies such as Alibaba and Amazon into massive giants that would seem to be virtually unstoppable, some brick and mortar retailers are discovering that the hands-on experience and in-person interaction that they have to offer customers has been giving them an advantage that has been enough to bring people back. The revenue generated through in-store experience is, according to Euromonitor data, going to grow to 4.9 percent by 2019. Comparatively, that figure had been 1.6 percent in 2013, while the growth of online sales is supposed to slow down to 12 percent by 2019 from having been 21 percent in 2013.