Zion Research has published a new report titled "Mobile Hotspot Router Market by Type (Standalone devices and Bundled devices): Global Industry Perspective, Comprehensive Analysis, and Forecast, 2014 – 2020" According to the report, the global mobile hotspot router market was valued at approximately USD 1.42 billion in 2014 and is expected to reach approximately USD 4.74 billion by 2020, growing at a CAGR of around 22.50% between 2015 and 2020. In terms of volume, global mobile hotspot router market stood at approximately 85.69 million units in 2014.
Mobile hotspot is an advance technology used in smartphones that facilitate user to connect Internet-capable devices to the Internet via wireless, portable device. The hotspot is a one type of on-the-spot connectivity to internet. Hotspot helps to connect several gadgets or computers to the network for simple and fast Internet access. However, Mobile hotspot is a compact wireless router that allows user to avail high speed Internet services and are connected through 3G or 4G mobile connections. Mobile hotspot router provides connectivity within a range of 30 to 33 feet and permits user to connect numerous Wi-Fi enabled devices to a single router.
Browse the full report at http://www.marketresearchstore.com/report/mobile-hotspot-router-market-z60689
Past few years has experienced unmatched growth in the number of wireless users, network access technologies and applications. The mobile hotspot router market is mainly driven by the increasing demand for wireless broadband. At present, wireless or mobile broadband services are experiencing impressive growth leading a tremendous increase in data traffic. This rising surge of traffic is driven by the increasing number of mobile subscribers, mainly smartphone users. Growth of e-commerce through portable devices has also fueled the growth of global mobile hotspot router market. However, some issues related to authentication, security, low last mile connectivity, network performance, network management in mobile hotspot router may hamper the growth of mobile hotspot router market.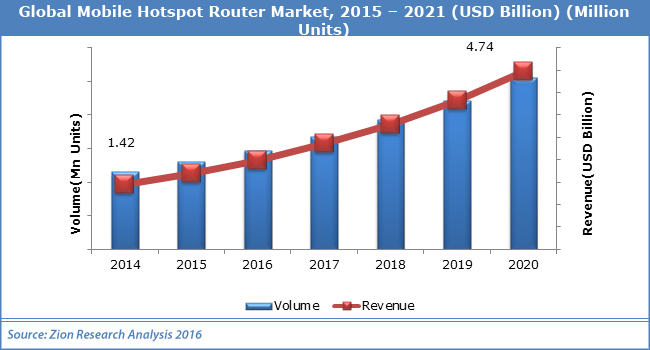 On the basis of types, the global mobile hotspot router market is divided into standalone devices and bundled devices. The bundled devices segment was the leading type segment, which accounted for 70.11% share of total volume consumption in 2014. The standalone devices segment of mobile hotspot router is the fastest growing segment of the market through the forecast period due to its benefits like it is independent of any hardware like computer, printer, modem, or other device.
Browse 13 Market Tables and 21 Figures spread through 110 Pages and an in-depth TOC on "Mobile Hotspot Router Market – Global Size, Shares, Trends, Segment & Forecast to 2021"
Get Sample Research Report at http://www.marketresearchstore.com/report/mobile-hotspot-router-market-z60689#RequestSample
With over 36.90% shares in total volume consumption, Asia Pacific was the largest market in terms of demand of mobile hotspot router. Due to rising number of mobile subscribers and high penetration of mobile internet led Asia Pacific to dominate the mobile hotspot router market. Asia Pacific was followed by North America and Europe in 2014. North America and Europe together recognized over 53.65% market share in 2014.
Key players operating in this market includes Apple Inc., Nike Inc., Garmin Ltd., Qualcomm Incorporated, Sony Electronics Inc., Martian Watches, Pebble Technology Corporation, Fitbit Inc., ConnecteDevice Ltd., and Samsung Electronics Co. Ltd.
This report segments the mobile hotspot router market as follows:
Global Mobile Hotspot Router Market: Type Segment Analysis
Standalone devices
Bundled devices
Global Mobile Hotspot Router Market: Regional Segment Analysis
North America
Europe
Asia Pacific
Latin America
Middle East & Africa
Browse Press Release at http://www.marketresearchstore.com/news/global-mobile-hotspot-router-market-250
Contact US:
Joel John
3422 SW 15 Street, Suit #8138
Deerfield Beach, Florida 33442, USA
Toll Free: +1-855-465-4651 (USA-CANADA)
Tel: +1-386-310-3803
Email: [email protected]
Website: http://www.marketresearchstore.com/