The company also stated that it brought in 600,000 new members over the last month.
The Isis mobile wallet joint venture in the Unites States has now released a report that has indicated that it is activating an average of 20,000 new users per day, and that during the last month, it enjoyed an addition of 600,000 members over what it had previously registered.
Isis is the joint venture that brings AT&T Mobility, Verizon Wireless, and T-Mobile U.S. together.
This mobile wallet, like the other giants in this category, had a very slow start, facing far more challenges to adoption than had been anticipated. Now, it is gradually releasing a trickle of data to help to show its marketplace performance since its initial nationwide launch in November. Michael Abbott, the CEO of the company, wrote in a blog post that the current activation rate had reached double what it had been during the month before. That said, the company failed to mention exactly how many total activations had occurred since its NFC technology using mobile payments service became available.
There are now 68 different device models from the telecoms that support the Isis mobile wallet.
At the same time, Isis comes preloaded on 14 smartphones from Verizon, T-Mobile, and AT&T, and the plan is to add even more preloaded devices in the future. In his blog post, Abbott added that "We plan to further broaden our ecosystem of partners to provide customers with more options as well as new ways to save. We'll continue to offer compelling consumer deals–all with the goal of helping consumers become ever more comfortable with mobile wallets."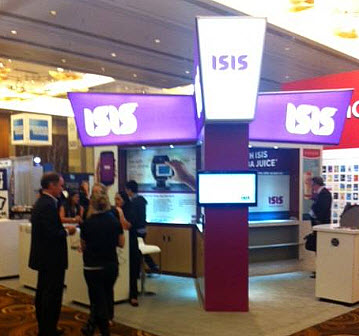 He also explained that in that vein, they will maintain their goal toward innovation to ensure that the users of Isis will be able to take advantage of an experience that is "simple and enjoyable" as they make their product purchases and complete their payment transactions.
A spokesperson for the company underscored the fact that this mobile wallet is now accepted at "hundreds of thousands" of store locations across the country that currently support mobile payments using contactless NFC technology. Some of these include Coca Cola vending machines, Jamba Juice, and even McDonald's.