These companies have banded together to be able to launch luxury wearables before the year is done.
The Baselworld Watch and Jewellery Show in Basel, Switzerland was hyped with announcements about wearable technology, such as the luxury smartwatch that is expected to result from a new partnership among Google, Intel, and the TAG Heuer Swiss watch-making company.
The goal of the companies is to create a device that is both practical to the wearer, as well as luxurious.
The CEO of TAG Heuer, Jean-Claude Biver, said that "Silicon Valley is Switzerland, Switzerland is Silicon Valley." He pointed out that the device that the partners would be designing would be "both luxurious, and seamlessly connected to its wearer's daily life." He closed his announcement with a ceremonial slicing into an 80+ pound wheel of cheese from his own farm.
Biver's statement showed that the smartwatch is the latest component of watch-making innovation.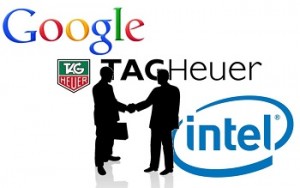 He explained that by bringing together the technology of Silicon Valley and the watch-making of Switzerland, it is a "marriage" of innovation and credibility. He expressed that "Our collaboration provides a rich host of synergies, forming a win-win partnership, and the potential for our three companies is enormous."
The companies have yet to name the wearable technology device that they intend to launch, but they do know that a chipset designed by Intel will be powering it, it will operate on Android Wear (the modified version of the standard mobile operating system from Google), and TAG Heuer will be designing the actual watch that will be worn by the owner. The availability and pricing of these wearables was also not revealed, but Biver did state that it could be launched anywhere between October and December 2015.
While TAG Heuer will be designing the watch, because of the smartwatch components of the device and as a result of the international method of assembly and manufacturing, the smartwatch that these companies will be producing will not have an actual "Swiss-made" timepiece certification. That said, it will be enhancing the early entry of Google and Intel into the very promising wearable technology marketplace.