While it may not seem strange to see weapons in a soldier's equipment, smartphones are a new addition.
Union Minister Haribhai Parathibhai Chaudhary has now announced that troops who are deployed along India's international borders and in areas hit by Maoist attacks will soon be receiving secure mobile phones as a part of their standard equipment.
Since even those whose deployments are to rather remote areas still receive cell service, this could be helpful.
The secure mobile phones will even be issued to security personnel who are located in areas that have only short-term occasional connections. Chaudhary explained that "We are planning to provide secure mobile phones to all security personnel deployed along the borders and Naxal-affected areas so that they can keep in touch with their family via 3G connection." It would not be possible for the mobile technology to be intercepted, he said, because the telephone exchange would be carried by the battalions wherever they go instead of being kept in a fixed position as is the case with traditional networks.
The secure mobile phones have received the approval of an American company that has said the tech is ready.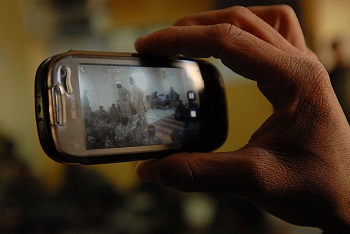 A delegation from that U.S. based company met with Chaudhary, at which time the company claimed that it was prepared to provide the cell phone exchange within a portable box. That would make it possible for security personnel to access any of over 1,000 secure mobile connections per box.
When meeting with another delegation from yet another American company, Chaudhary also arranged to obtain blood testing equipment that would make it possible for blood tests to be taken and processed within a span of a handful of minutes, providing security personnel with a vital way to save time in this task.
This introduction and adoption of the new mobile technology is a part of a broader effort from the central government to prevent cyber crime as it becomes available through the evolution of the latest tech. Chaudhary pointed out that the laws in the country have yet to directly address the prevention of cyber-crime and that, beyond the secure mobile phones, the government has now launched a judicial process designed to create new legal regulations that will align with the advancement of technology.