A recent study has forecasted that within a span of 7 years from now, the industry will reach $3 trillion.
The Bank of America Merrill Lynch has now released a report in which it has stated that in a period of 7 year, mobile payments will have grown by 200 times their previous size and will be worth more than $3 trillion.
If this prediction is correct, then wallet and banking apps, retailers, and telecoms are about to benefit greatly.
The report indicated that those who are most likely to benefit from this growth of mobile payments are: banking, telecom, IT, and mobile wallet firms. The report stated that "In India, we consider mobile payments to be both an opportunity (for banks, telcos and new players) and threat (due to dis-intermediation, more to the traditional banks). We estimate the value of mobile banking, estimated at just USD16 billion today to rise 200x in 7 years to more than USD 3,000 billion."
It is also expected that mobile payments will make up 10 percent of the total transactions in that country.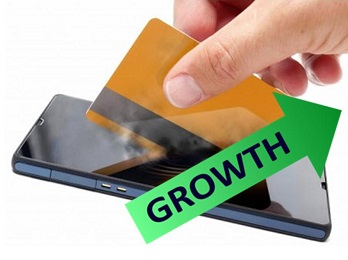 This is quite the increase, considering that for the 2015 financial year, smartphone payments made up only 0.1 percent of the total. The report stated that this will be a considerable opportunity for many companies involved in that industry to better their "competitive positioning." Equally, the report noted that it would mean that there would suddenly be considerable competition making its way into the space that had previously been held by public sector banks.
As the payments technology evolves, it is expected that the use of paper cash will have dropped to under 2 percent. The report predicted that the range of alternative methods of payment will lead to a gradual decrease in the use of cash throughout the economy, and that electronic payments will help to ease the lending rates and will encourage growth over time.
It pointed out that among the primary drivers behind the growth of the use of alternative transactions will be in the improvements of mobile payments through greater smartphone penetration. That penetration in India is expected to double in the country's young population over the next three years. As 60 percent of the population is younger than 35 years old, this represents a massive shift in digital technology use.