"Gear Blink" could be the head mounted wearable that will rival Glass in 2015.
Although Samsung has recently introduced its Gear VR, which provides consumers with a new virtual reality experience, the latest rumors surrounding the South Korean electronics giant is that it may have another wearable tech gadget in the works that could potentially be competition for Google Glass.
The device may be launched next Spring and patent images reveal some of its potential features.
The speculated launch of the unofficially named Gear Blink (also nicknamed the Gear Glass) is sometime in Spring of 2015, possibly as early as March, and may be unveiled at the same time as Samsung's Galaxy S6, according to a Tizen Experts report.
An augmented reality app that transforms the user's hands into a virtual keyboard may be one of the Gear Blink's features. The reason this is speculated is a filing from the KIPRIS (Korean Intellectual Property Rights Information Service) revealed patent images that show two versions of the keyboard, a one-handed variation and a two-handed one. The letters of the virtual keyboard are spaced out in a specific pattern, so that they correspond to different portions of the user's fingers.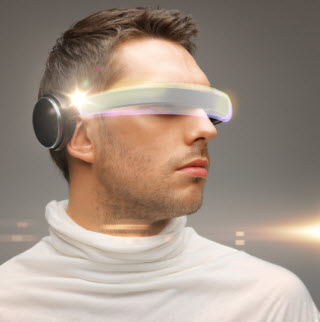 Additional patent images suggest the device's potential design. Its appearance is not entirely unlike Google Glass, but it does look sportier. One image reveals an earbud and ear clip with a translucent display that curves in front of the user's eye, similar to current Glass displays. Another image shows the device appears to be equipped with a microUSB cable for charging.
Innovative features like a virtual keyboard could give Samsung's potential smartglasses a leg up over Google Glass.
It is expected that Gear Blink will be powered by a form of Tizen OS, but it is not known how these smartglasses would work with Samsung's Galaxy smartphones or Gear watches. That being said, it is likely that connectivity will be possible among all of these gadgets.
Although there has yet to be an official announcement regarding a Samsung augmented reality headset, it would not be surprising if there was word about one soon. It will be interesting to see if Google Glass will have competition and how Google with respond to it.