A new report from Flurry reveals that, globally, consumers play games for an average of 37 minutes every day.
The mobile analytics firm's study analyzed 60,000 Android devices and discovered that of all these users across the globe, gamers in the United States are the ones who spend the most time engaged in mobile gaming, averaging 51.8 minutes each day, compared to other countries involved in the study that averaged the shortest times, which were France at 30.1 minutes and China at 28.6 minutes.
Mobile game playing has experienced significant growth in the U.S. over the past three years.
The growth in the mobile gaming sector in the U.S. is largely due to a greater number of consumers in the country adopting smartphone and tablets. With the bigger screen size of these gadgets, almost 50 percent of console gamers began using these devices last year. This is a 15 percent increase from 2011.
In terms of the average time (in minutes) gamers spend playing Android games in a day, the study found that Germany was the country that spent the second most time gaming after the U.S., averaging 47.1 minutes, daily. Also above the global average are Russia (40.8 minutes) and Italy (38.5 minutes). A marginal difference was found between South Korea (36.2 minutes) and India (33.4 minutes). It is speculated that the reason for this is due to the fact that India experienced the industrial revolution at a comparatively later stage and that low-end smartphones have become extremely popular in the nation. What was quiet surprising, however, was that the UK was one of the countries where the lowest average amount of time was spent, at just 32.4 minutes.
Mobile gaming apps that appear to be the most popular are Arcade & Action games.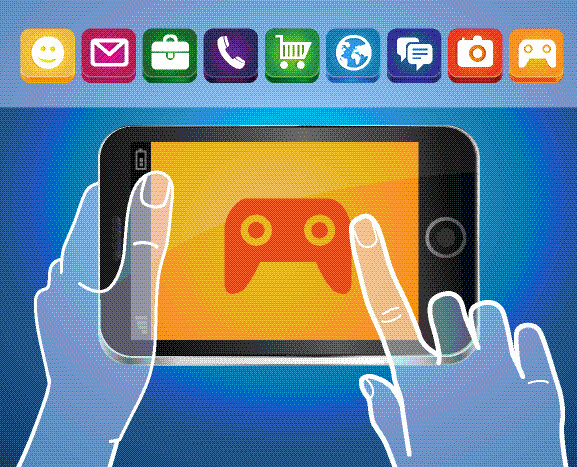 The Global Mobile Gaming App Industry 2014 and distribution of Android gaming apps report from Flurry also looked at the distribution of gaming app sessions by country and category. It learned that while Arcade & Action games were at the top of the list, Casual games followed close behind. The study found that:
• Arcade & Action games were the most popular in South Korea (74 percent) and China (53percent).
• Brain & Puzzle games topped the charts in Italy (55 percent) and Germany (53 percent).
• Casual games were relatively popular among all countries, but were particularly popular in Russia (56 percent) and Brazil (53 percent).
Jarah Euston from Flurry commented about the report's Android mobile gaming findings saying that "it turns out that while we all speak the language of gaming, distinct dialects exist." Euston added that "With the global gaming market expected to reach $24B by 2017, there's plenty of room for both international standard-bearers and local delicacies alike."