A new report issued by Forrester Research has indicated that there will be a tripling of wearables users in 2015.
According to Forrester Research in a new report that they have recently released, the number of people who will be using wearable technology is going to triple throughout next year, when compared to this year's figures.
This will, said the report, be greatly driven by the upcoming release of the Apple Watch, early next year.
The research firm has predicted that the Apple Watch, alone, will draw an additional 10 million users to the wearable technology category. This represents a more rapid growth rate than has been issued by a number of other forecasts, which feel as though the first wave of chunky, unfashionable, and just plain ugly prototypes and early generations of devices will have put many consumers off the idea for some time. But this new research indicates that next year will be a breakout for this trend.
That said, the interest in wearable technology was found to be greatly different between the U.S. and Europe.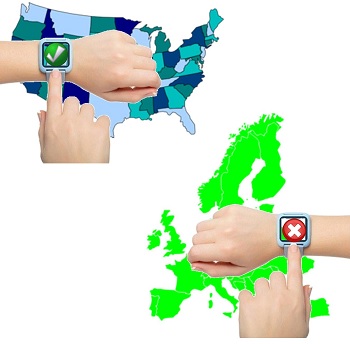 Polling data that was used in this Forrester Research study involved the participation of thousands of consumers throughout Europe and the United States. Among Americans 45 percent said that they could imagine themselves using wearables. That said, among Europeans, only 32 percent said that they would want to wear those devices.
That said, within the wearables category, there are areas that consumers can picture themselves using more than others. For example, health monitors and smartwatches were among the items that consumers said that they were more likely to wear than other devices such as smart glasses. People seemed more willing to wear something on their wrists, followed by those that clip onto clothing. Lastly was those that were to be worn on the ear or face.
Even in the United States, there was a difference from one region to the next among the various categories of wearable technology. That said, in every area there were people who were willing to try everything from the aforementioned devices to smart jewelry, but even tech enhanced contact lenses and tattoos had some willing adopters.