Survey highlights the growth of Apple's mobile payments service
|
Apple Pay is gaining momentum among iOS users
Baird Equity Research has released the results of a new survey concerning iPhone users and Apple Pay. Apple's mobile payments service was released in October of last year and has managed to find significant momentum despite the short period of time it has been available for. The service can be used on both the iPhone 6 and iPhone 6 Plus, but it is not available for other iOS devices at this time. Apple Pay is expected to be compatible with a smartwatch that Apple is planning to release at some point in the future.
PayPal leads in mobile payments, but Apple Pay accounts for 6% of all in-store mobile transactions
According to the survey, 40% of online consumers made an in-store purchase with a mobile device. PayPal was the most preferred application among this consumers, with Google Wallet accounting for 11% of these transactions. Apple Pay only accounts for 6% of in-store mobile payments, but a significant portion of iOS users currently use the platform regularly. Approximately 40% of iPhone 6 users  make use of Apple Pay to purchase products in physical stores as well as online.
Apple Pay is beginning to become more popular among retailers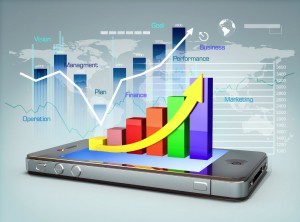 Though PayPal remains the leading entity in mobile payments, Apple Pay is expected to catch up quickly. The service has the support of several major retailers, many of whom want to engage mobile consumers more effectively. These retailers partnered with Apple for the launch of the mobile payments service and have begun to find significant success in the mobile space as a result. As more retailers show support for Apple Pay, the service may begin to play a larger role in the overall mobile payments space.
Young consumers are more likely to participate in mobile payments
Notably, young consumers, between the ages of 18 and 24, are the most likely to make in-store mobile payments. Such transactions had the highest frequency among this demographic, according to the survey from Baird Equity Research. The survey notes that these consumers tend to make a mobile transaction in a physical store as many as four times per month.