Starbucks continues its push into the mobile payments realm
|
Starbucks is growing bolder with its mobile initiatives in order to better engage consumers
Starbucks is beginning to more aggressively promote its mobile payments application. The app can already be considered a resounding success for the company, but Starbucks is keen to see its use expand among its customers. The company is beginning to promote the app as the best way to avoid long lines at its local stores, giving customers a way to order and purchase products quickly from their mobile devices while also being rewarded for doing so.
Mobile commerce is quickly winning over consumers
Mobile commerce has won favor with consumers because of its convenient nature, but relatively few people are willing to embrace mobile payments fully. This is due to their security concerns and the fact that most mobile commerce platforms are exactly the same. The majority of mobile commerce applications currently available to consumers only facilitate mobile transactions, offering little else in the way of convenience or rewarding consumer loyalty. Starbucks has managed to find strong success with its app through a focus on consumer loyalty, noting that more than 8 million people are currently registered with My Starbucks Rewards.
Starbucks begins promoting mobile transactions in more of its stores located throughout the US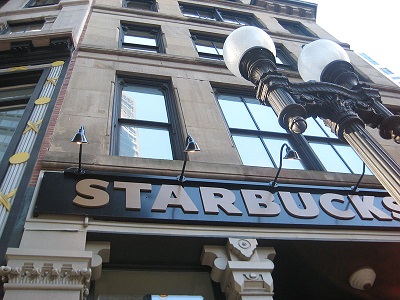 Approximately 14% of all payments made at Starbucks store now come from the company's mobile application. Starbucks suggests that its customers are becoming quite interested in mobile payments because of how easy and convenient its mobile application is. The company is beginning to rapidly increase the number of locations that accept mobile transactions in the hopes of further promoting its application as a viable tool for consumers.
Company has big plans for mobile commerce and plans to see success in this highly competitive market
Mobile commerce has become one of Starbucks' most lucrative business sectors. Rumors suggest that the company was able to generate more than $1 billion in revenue just from mobile payments in 2013. The company is eager to continue capitalizing on the increasing mobility of its customers, offering them services that are designed to be convenient and mobile-centric in nature.