Augmented reality system could change the way soldiers are trained
The U.S. Marine Corps has revealed a new prototype training system that makes use of augmented reality. The augmented reality system is meant to provide soldiers with a more immersive experience while training, better preparing them for what they may experience in an actually combat environment. Augmented reality has become quite popular in the military industry because of its potential to change warfare. The technology has begun expanding beyond the boundaries of novelty and has become something that can be used effectively in practical applications.
System provides digital experience in lieu of real world events
The Marine Corps' Augmented Immersive Team Training (AITT) system represents a five-year research project that is being conducted by the Office of Naval Research. This project also includes augmented reality training systems for the Army. The AITT system is lightweight, portable, and does not require a user to be contained within a virtual reality facility. A head-mounted device equipped with a variety of sensors is used to allow the user to see digital content superimposed over the real world. A backpack containing the augmented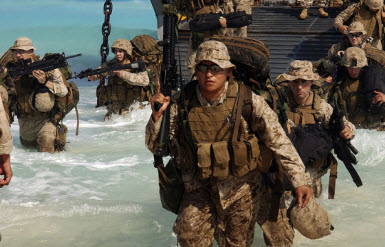 reality system is linked to the head-mounted device.
Augmented reality system garners favor through demonstration
The system first maps the terrain in which a soldier will be trained. After this process is complete, augmented reality experiences can be embedded wherever necessary. The system was demonstrated earlier this month in New Jersey, where it garners favor from observers. The augmented reality system is praised for its potential ability to provide soldiers with an immersive experience that does not require significant funding to replicate. Because the training is conducted digitally, the military can save money on fabricating the elaborate training exercises that are needed to ensure soldiers are adequately prepared for real combat.
Military continues to show favor for augmented reality
Augmented reality is becoming more attractive to the world's various military organizations. The technology is currently being tested in South Korea and could soon find a place in other nations looking to upgrade their military with new technologies. While the U.S. military is currently interested in using augmented reality for training purposes, the technology is likely to be used for other, more advanced purposes in the future.