Mobile technology study shows kids are sick of seeing parents on smartphones
|
A recent study has shown that the situation has changed and children now want their parents to toss their phones.
In a striking turning of the tables, a recent study conducted by a team at the University of Washington has found that children are now in the position of wanting their parents to put their mobile technology devices away so that they can spend more time together.
Kids are getting sick of seeing their parents on their smartphones when the children want attention.
They have also pointed out that they feel like their parents are being hypocrites about their use of mobile technology, as kids are told that they have rules about when they can use smartphones and tablets, while parents go ahead and use them whenever they want – which is quite often. The study showed that kids watch their parents continually read and respond to emails, texts and calls from work, friends and family while at the dinner table, while their kids are told that they are not allowed to use their own devices.
Kids have expressed that they feel their parents are setting a bad example with regards to the use of mobile technology.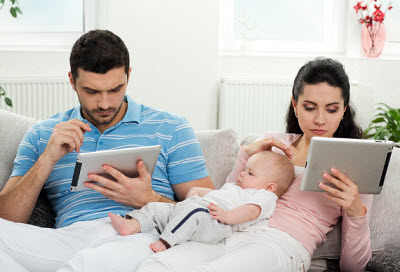 The study results suggest that parents might want to start living by example instead of laying down rules they don't live by. The reason is that it is becoming much more difficult for their kids to understand the boundaries that have been set. The conclusion of the study indicated that parents will want to establish limits when it comes to the use of smartphones and tablets but that those rules should apply to the entire family, not just the youngest generation.
The lead researcher of the study, Alexis Hiniker, a doctoral student in human design at the university, said that parents will need to stick to the same rules they have set for their children. She stated that "Managing kids' technology use was once much easier for parents – they switched off the television when a show was over or kept an eye on kids as they used the family computer in the living room."
It was also determined that parents were not just failing to stick to the same rules as their kids but they were also setting some bad examples such as texting and driving. It is evident that the rapid evolution of mobile technology is changing the face of the standard family experience and that many parents have yet to find a harmonious balance with their kids.