Mobile payments to be accepted on French trains
|
Soon, passengers on the railway networks across France will be able to use smartphones to pay for fare.
It has just been announced that the TGV trains in France will now be accepting mobile payments from passengers who will be able to use wireless systems to pay for their travel fare.
The railway operator, SNCF, in France, has adopted a state of the art transaction system compatible with wireless devices.
According to the latest news, the mobile payments system for the trains will use technology from VeriFone Systems, a tech firm from California. This will let a mobile device with the right app to be used to purchase railway tickets. The original deployment of handheld devices started back in April and by the time August is complete, it is believed that there will be 12,000 units deployed across the system.
The mobile payments system is comparable to ones that have been used in several other European countries.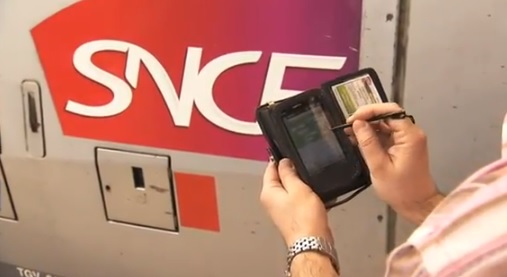 The mobile payments devices being deployed across the world recognized high speed TGV trains in France will accept both domestic and international EMV card transactions. They will also be able to process the sale of the tickets and provide receipts and information services for the train riders. The gateway service at VeriFone collects and routes all forms of electronic transactions and also make it possible to use both the traditional type of card and contactless, smartphone, and online transactions.
_____________________________________________________
Ad -

#1 Ways to Double Your Productivity For Life
By Jason Fladlien, referred to by many as "One of the top 5 living marketers on the planet". How did he get there? By working smart. Get twice as much out of your day with Jason's easy system -
Learn More Here
_____________________________________________________
According to the SNCF department director for train information systems, "VeriFone's unique managed payment solution makes it possible for SNCF to further improve efficiency and productivity on our trains by adding on-board payment to our mobile solution." She added that "Mobile payment further enhances passenger convenience and is a natural complement to existing capabilities of access to real-time information such as train schedules and seating availability."
Similar mobile payments tools have been seen in other countries over the last few months, such as Turkey and Spain. Neither of these have used VeriFone technology, but they are proving to be popular among their passengers. Turkey's service began in April, while the offering in Spain began in May.