Mobile payments software deployments just revealed by Isis
|
A number of software providers and payment terminal manufacturers have just agreed to integration.
According to an announcement from Isis, a number of new terminal manufacturers and software providers have now committed to integrate the Isis SmartTap mobile payments option into their own products.
This is considerable news as Isis has also recently revealed that it intends to launch nationwide this year.
The SmartTap protocol is only the latest of the proprietary mobile payments software specifications being used by this smartphone wallet service for leveraging NFC technology. These deployments are expected to cover a broad range of different offerings at the point of sale, according to Isis. This includes everything from unattended solutions such as vending, to point of sale terminals with high end integration.
Isis mobile payments users will be able to pay at a terminal or NFC reader that is supported.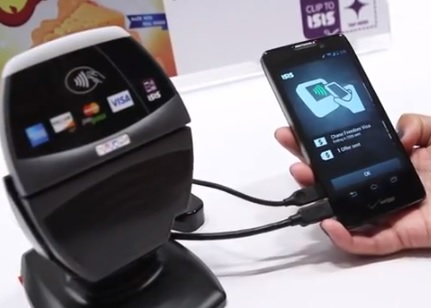 When the SmartTap protocol is supported by a payment terminal or an NFC reader, it makes it possible for users of the Isis mobile payments wallet service to be able to pay for their purchases, redeem offers, and present loyalty cards within a single transaction, using a smartphone.
According to the Isis chief sales officer, Jim Stapleton, in a news release that was recently issued, "NFC is the international standard for mobile payments." Stapleton added that "The proliferation of SmartTap capabilities at the point of sale takes mobile payments one step further, providing rich commerce features that offer an effortless consumer experience and drive engagement and loyalty in a way previously not possible."
Providers that support the capabilities of SmartTap are making it possible to enable mobile payments and commerce in a broad spectrum of different environments, such as at gas pumps, public transit systems, vending machines, taxi cabs, supermarkets, retail stores, and restaurants.
Among the latest partners that are integrating the mobile payments capabilities of SmartTap into their product lines are On Track Innovations Global, Uniform Industrial Corp, PAX Technology, ID TECH, and XAC Automation corp. Those that have already integrated the capabilities into their point of sale offerings include VeriFone, Gilbarco Veeder-Root, Equinox Payments, Ingenico, and Wayne, A GE Energy Business.