Mobile gaming apps are still performing better than consoles
|
Games applications are growing in popularity among players with both tablets and smartphones.
When it comes to video games, the mobile gaming apps sector appears to be continuing its path toward a powerful and growing lead over its competition, which has traditionally been from the console category.
Analysts are now predicting that mobile games will surpass consoles before the end of this year.
In fact, recent data has indicate that mobile gaming apps have already become an industry that is worth a tremendous $25 billion. Analysts see this revenue climbing to $40 billion by 2018. As the expectations of gamers for mobile gaming apps continue to rise, companies are often letting some of their older titles drop so that they will be able to focus their attention on new and cutting edge innovations in game applications.
There are certain companies that have been quite successful in their own mobile gaming apps.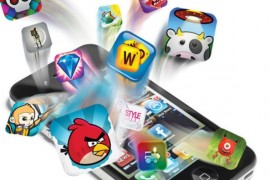 Those for which gamers currently have the highest expectations include Electronic Arts (EA), Tapinator, Activision Blizzard, Take-Two Interactive Software and Glu Mobile, among others. These mobile app developers have not only already put out some highly popular titles, but they also have some very promising titles in the pipes that will be released over future months and years.
This is causing a fascinating shift in the key companies within the video game industry and it is showing that many players are looking for a different experience from that of a console. After all, they are playing on their smartphones and tablets, which are devices that they already have, instead of having to purchase a console for hundreds of dollars. Moreover, they are purchasing games for a few dollars, or are playing them for free on their smartphones and tablets, whereas console games are notoriously expensive – particularly when it comes to the popular ones.
While console games are far from being irrelevant, the market for mobile gaming apps is ever expanding as smartphone penetration becomes ever greater in virtually every market around the world. The very nature of these applications has offered them a considerably greater reach among consumers across the globe.